Marvila – Lisbon's small Brooklyn
When I was browsing through the internet to see who and what is mentioning about Marvila, I came across such titles as 'The coolest neighbourhood in Lisbon", "The most hipster area of the Portuguese capital!".
And although I can't deny the truth of these slogans, I decided to title my text – "Marvila – a small Brooklyn".
But to understand why you must have a glimpse of its general historical background!
Marvila's location should be called a rather strategic one. The riverside position let the habitants explore its fertile land of the Tagus river in a shape of vegetable and fruit gardens. The reminiscences of this agricultural past can still be seen in the names of some of the small districts, like Quinta da Rosa or Quinta das Flores.
In the course of the industrial development, Marvila became 'the wine district' with numerous wine and olive warehouses that today serve as the fundaments of the new 'hyped' vibe of the quarter!
Then, for years, with the technological boost and waves of mass tourism, the neighbourhood stood stranded and forgotten. To finally rise like a phoenix and become the coolest part of Lisbon!
As a consequence, the abandoned factories, the ruined storehouses, the uncropped grasslands were transformed into numerous cafés, restaurants, art galleries, co-working spaces and creative fields.
If I told you that you could spend there a fun day, filled with good art, delicious food and refreshing artisanal beer? Would you consider visiting it?
If so, here is a cheat sheet of what to do in Marvila – Lisbon's small Brooklyn!
ART
Underdogs Gallery
If I were to close Lisbon's urban art spirit in a gallery, the Underdogs would be its ideal representation.
Marvila's creative pride that attracts an international audience and the most recognizable street artists – such as Bordalo II, Vhils, or Shepard Fairey must be on your visit list!
Tip! Walk down to the gallery after lunch at Café Com Calma and a coffee at the Royal Rawness.
Address: R. Fernando Palha 56, 1950-132 Lisboa
Openings: Tuesday – Saturday, 12 pm – 7 pm
Francisco Fino Gallery
Francisco Fino Gallery settled in Marvila's former oil and wine factory in 2017. Since then, this industrial space became a dynamic ambassador of contemporary art.
The enormous warehouse and rural art pieces might overwhelm but don't be shy! The curators are always more than honoured to walk you through their current installations.
Tip! Visit the gallery after a stroll through the street art and before a refreshing beer at Dois Corvos.
Address: R. Cap. Leitão 76, 1950-052 Lisboa
Openings: Tuesday – Saturday, 12 pm – 7 pm
Saturdays, 2 pm – 7 pm (closed on Sundays and Mondays)
Bruno Múrais Gallery
This gallery always manages to surprise me. It also has the ability to question my understanding of art!
And that is because their exhibition choices are full of symbolism and hidden interpretations.
Get there for an experience filled with poesy and materialized thoughts!
Tip! Visit the gallery before heading up to the Aguele Lugar Que Não Existe rooftop!
Address: R. Cap. Leitão 16, 1950-051 Lisboa
Openings: Tuesday – Saturday, 2 pm – 7 pm (closed on Sundays and Mondays)
Fábrica Braço de Prata
A former military gear factory that, in the 90s, was successfully transformed into Lisbon's one of the most important cultural centres. And it, undoubtedly, stands up to its name even today.
It's a restaurant, bar, music scene, jazz school, discussion centre, vintage store, and art gallery all the once. Twenty rooms are blending any artistic skill that you can think of. It all makes the Fabrica one of the most vibrant, but so little talked about cultural spots!
Tip! Get there for a drink after visiting the Underdogs Gallery and before an Asian dinner at the Dinastia Tang.
P.S. I don't recommend eating there.
Address: R. Fábrica de Material de Guerra 1, 1950-128 Lisboa
Openings: Monday – Thursday, 8 am – 2 am
Friday – Saturday, 8 am – 4 am (closed on Mondays)
Street art
For the street art experience, you need to climb up a little and leave behind the hipster part of Marvila.
Here, the locals might still look at you strangely as if they didn't get used to the way their area had changed. What enhances the experience is the presence and sounds of country animals!
So, don't be surprised if between shots you'll stumble upon a cow or a rooster!
Tip! Start your trip up there and climb down for some beer bar hopping at Dois Corvos and Musa.
Address: head to the Marvila's library and you'll see the colourful buildings
EAT
The Royal Rawness
Not only is this coffee place new, but it's also well hidden under an extraordinarily beautiful facade.
Marvila is becoming an artistic hub of the Portuguese capital, and that's what the Royal Rawness is representing too. It's located in a historic building and a former wine factory. And with its semi-industrial design, it welcomes a lot of expat entrepreneurs who love it for its coffee shop/bar/restaurant/cantine vibe.
Tip! Get there for a weekend brunch before hitting Marvila's art galleries.
Address: Praça David Leandro da Silva 2, 1950-131 Lisboa
Openings: Monday – Friday, 8 am – 6 pm
Saturday – Sunday, 10 am – 6 pm
Café com Calma
Another diamond that is hidden in Marvila and already a local institution. Café com Calma is mainly famous for its extraordinary yet very affordable lunch menus. But once the busy office people of the hood are well fed and back at their desks, it becomes a chilled and vintage-inspired coffee place – as if you were visiting your grandma!
Tip! I highly recommend getting there for an early lunch and tasting the unbeatable homemade dishes! After, you can walk up to admire the street art.
Address: Rua do Açúcar 10, 1950-242 Lisboa
Openings: Monday- Friday, 8 am – 6 pm
Saturdays 10:30 am – 6 pm (closed on Sundays)
Aquele Lugar Que Não Existe
Well, this place doesn't exist so you didn't hear it from me!
Yet another former (gigantic) warehouse transformed into a magical space from another galaxy. Or, at least, from Tim Burton movies.
Imagine chairs hanging from the ceiling, one-eyed dolls peaking from the corner of the tables, or old washing machines used as tables. That's the vibe!
The restaurant's policy is forbidding to take photos and, somehow, every time I try to take one; there is a waiter catching me in the act.
But, if not for food (that is an Italian/Indian fusion), get there for the insanely grotesque decor.
Tip! Start with a beer aperitif at Musa and get there for dinner.
Address: Rua do Açúcar 89, 1950-051 Lisboa
Openings: Monday – Friday, 11:30 am – 12 am
Saturdays 11:30 am – 1:30 am, Sundays 11:30 am – 11:30 pm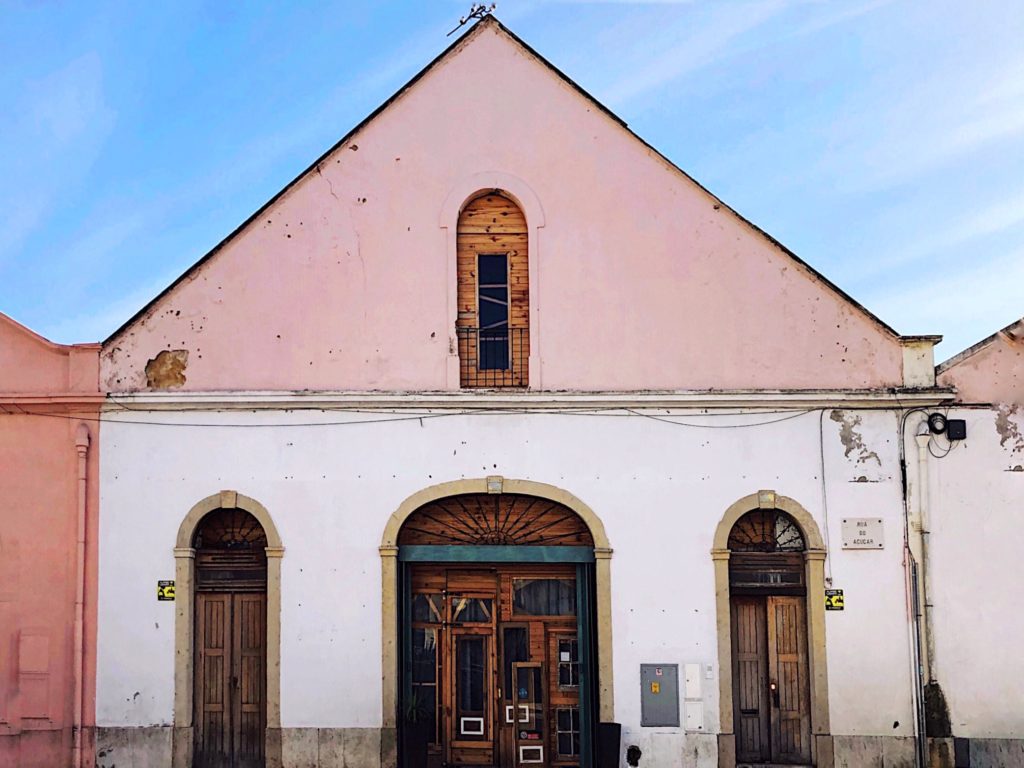 Drink
Musa
Welcome to Lisbon's beer district!
The Portuguese capital is holding many local, independent breweries. By now, three of them are brewed in Marvila! And two come with the actual bar!
One of them is Musa occupying a huge hangar space, right next door to Aguele Lugar Que Não Existe.
This beer was created with passion in 2016 by two friends – Bruno and Nuno. They combined traditional recipes with a hint of modern touch.
You can order the tasting pack or one of the quirkily named beers (Twist and Stout; Red Zepellin Ale; Mick Lager) both in bottles and pressed.
Tip! Refresh at Musa after the street art hunting.
Address: Rua do Açúcar 83, 1950-006 Lisboa
Openings: Monday – Thursday, 4 pm – 12 am
Friday – Saturday, 4 pm – 3 am
Sundays 1 pm – 10 pm
Dois Corvos
Dois Corvos is another great space for beer lovers and local lifestyle adventurers. It gets very crowded over the weekends, so the party often moves to the street, creating a unique Lisboet atmosphere.
Tip! Get there on a Friday early afternoon to see the crowds gather for the after-work drinks.
Address: R. Cap. Leitão 94, 1950-052 Lisboa
Openings: Monday – Thursday, 2 pm – 11 pm
Friday – Saturday, 2 pm – 1 am
Sundays 2 pm – 11 pm
Aquele Lugar Que Não Existe Rooftop
Just as its sister, the rooftop is well hidden and even better protected from the eager photographers. But the concept remains the same – a bit kitsch, vintage and gothic decor, serving classical drinks and offering a reasonably pretty river view.
Tip! Dive into the film-inspired universe and enjoy refreshing cocktails at the rooftop, followed by an Indian pizza.
P.S. The bar is right in front of the restaurant – on the other side of the street!
Address: Rua do Açúcar 76 a, 1950-051 Lisboa
Openings: not provided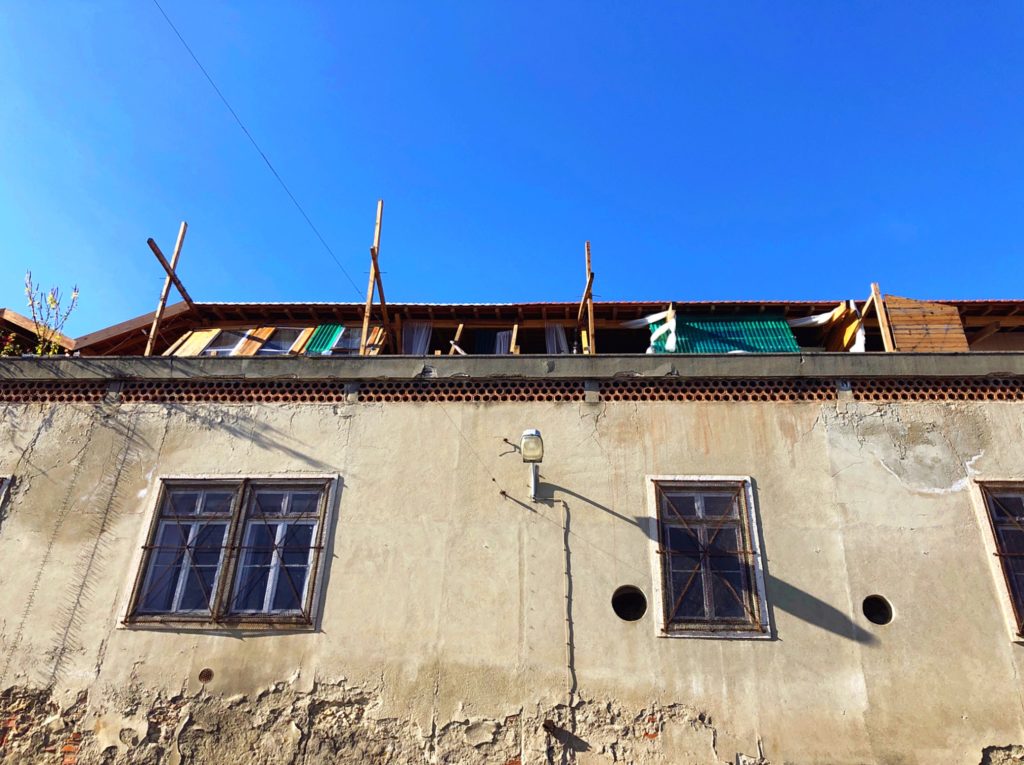 SHOP
Cantinho do Vintage
A vintage market that is completely and entirely devoted to second-hand furniture and home accessories.
I do imagine that if you're in Lisbon for a weekend, you won't be buying your new kitchen table but this place has so much soul that it's worth stopping by for inspiration.
Address: Rua do Açúcar nº 19, 1950-142 Lisboa
Openings: Wednesday – Friday, 2 pm – 7 pm
Saturdays 11 am – 7 pm (closed from Sunday to Tuesday)
Tem-Plate
It might be the only time that I recommend a boutique selling luxury brands, but it would be a shame not to mention it in the context of Marvila.
A showroom and a concept store at once carries such brands as Maison Martin Margiela, Moncler, Acne or Comme des Garçons.
Space covers 800 square meters of industrial decor filled with small and often limited collections of high fashion brands.
And although I don't encourage investing in commercial fashion, you can find there some hidden treasures made locally and sustainably.
Tip! After visiting all Marvila, end your stroll with a visit to Tem-Plate!
Address: R. Projectada à Matinha F, 1950-327 Lisboa
Openings: Monday – Saturday, 10:30 am – 7 pm
Once a neglected, omitted and one of the poorest Lisbon's hood. Today, the district of alternative art, colourful murals, local breweries, and co-working spaces.
I would love to hear your impressions if you ever visit Marvila!