Their designs will never go out of fashion because they don't follow one.
They are, however, a reflection of a timeless style based on quality, simplicity and longevity.
What's more, communing with their projects is like a distant, exotic journey that you don't want to come back from!
They become part of our lives, second skin, protection, mask, armour, and joy. And that is why we do not get rid of them at the first chance. On the contrary! We want them to accompany us in the most special times.

For example, I took my Przywara-Strzałka bag for walks on the volcanic rocks of the Azores.
And seeing the first gust of autumn wind, I secretly am glad that I can finally proudly wear my beloved Elementy Coco wool coat.
I'm not worried if my white top from The Odder Side will still be on trend next season, and Nago turtlenecks will work even at the party.
These things have a soul because they are created with such intention – out of passion and love for design. They are created by people and for people and luckily not only for vain money reasons! They are made to promote a moderate production process and healthy consumption, wrapped up in friendly prices.
So before you start looking for your next 'basic' on the high street, I hope that this quick list of five Polish timeless brands will convince you that you don't have to look far to look good and to do good.

I have also created a compilation of twenty of their staple pieces that will allow you to build an almost infinite number of combinations!
Not only will you be supporting local economies and artisans. You'll surely make some young creators dance their little happy dance!
Monika Przywara-Strzałka
I start with Przywara-Strzałka, not without reason! Monika's pieces have taught me to appreciate the beauty of simplicity, which does not have to mean boredom!
At first glance, a black square bag with a handle. Nothing new in the long history of fashion, you might think? Maybe nothing new but definitely unique.
Its classic design is so particular and at the same time magical that, paradoxically, it always takes charge, even, in the most complex outfits.
And it's impossible not to mention their quality and functionality which actually became legendary in Poland!
First of all, the leather is so thick and sturdy that after years of intensive usage (you remember my trip to the Azores?) it looks like brand new. Second of all – you can fit there literally everything and anything! From a book, a small bottle of water, an umbrella, and any other everyday 'stuff'.
And what makes it even more special is the possibility to engrave on it anything your mind can think of! Maybe a picture of your puppy, a print of your newborn's feet, a tattoo that you're afraid to ink on your skin? Make it so yours and personal that you'll be obliged to pass it onto the next generation!
Phot. credit: przywarastrzalka.com
Nago Store
Nago means 'naked' in Polish, and I perfectly understand where this name comes from!
My adventure with Nago began with their black body/turtleneck piece. And just like with Monika's handbags, I never thought I would feel so sophisticated in this rather classic outfit!
I felt like I was covering myself with a tight, comfortable cloud of material that was tailored and designed especially for me! I don't know if it's due to the perfect sense of shape or the organic, ecological and certified cotton from which it is made. Or maybe both at the same time?
In all honesty, I can confirm that Nago pieces will become your second skin and their universality will adapt to every part of your wardrobe and, above all, to your lifestyle.
The brand's offer is growing every season – we can choose from t-shirts, pants, shorts, dresses, and with their bigger and bigger popularity, their commitment to a better future also increases. They donate 1% of their monthly sales to the restoration and protection of the natural environment.
Isn't it heart (and body;)) warming that we can really look good and buy responsibly?
Nago photo credits:
Lookbook Drop 3
Foto: Monika Szwed
Model: Angela Olszewska
Lookbook Drop 5
Foto: Michaela Matesová/Bulletproof Warsaw
Mua: Anna Słowińska/Dziewczyna od Pudru
Model: Julia Janulewicz/AVANT Models
Stylying: Robert Kiełb
Inspirational photoshoot Drop 4
Foto: Michaela Matesová/Bulletproof Warsaw
Mua: Anna Słowińska/Dziewczyna od Pudru
Models: Aleksandra Piejka, Jagoda Porębska
Production: Mateusz Bzówka/Bulletproof Warsaw
Elementy Wear
Elementy reflects all the values ​​I am looking for in modern fashion. The versatility of designs, local production, best quality materials, price transparency, support of numerous charity initiatives and finally friendly and flexible customer service – to name a few.
If I had to choose one piece of clothing to recommend it would definitely be the coats. And there is the broadest spectrum to chose from! From fall-appropriate, woollen outerwear to light and more casual trenches. All are tailored for a contemporary lifestyle where the minimality and originality play the leading role.
But the brand's offer could easily cover the demanding needs of any capsule wardrobe too – proposing shirts, pants, jackets and dresses.
If you believe that fashion can have a positive impact and that it can go beyond trends, you really should take a closer look at Elementy Wear!
Phot. credit: elementywear.com
Balagan
Talking about Elementy is impossible without mentioning Balagan!
These two brands are like Bonnie and Clyde, Jaz-Z and Beyonce or Serge Gainsbourg and Jane Birkin. Do they not only complement each other artistically but also together, they create a Transparent Shopping Collective. But we'll talk about it in a moment.
For now, let's focus on the brand itself. Balagan is a Polish/Israeli fusion that completes the collections of its sister with shoes and other leather accessories. And actually the description of their activity is a mirror reflection of the one described about Elementy and can be enclosed in several key, but very meaningful, slogans. Modern but classic design inspired by Bauhaus minimalism of Tel Aviv, Polish artisanal, versatility, timelessness, and highest quality. Simple and straight to the point!
But let's go back quickly to the Transparent Shopping Collective initiative. Both brands have adopted a responsible sales strategy, which means that they openly announce the costs of the entire process of creating each product. From the purchase of materials to production, margins, transport and charity initiatives.
Finally, not only can we look deep into the eyes of our favourite fashion creator. But above all, we can get a glimpse of how sustainable fashion looks from behind the scene!
Phot. credit: balaganstudio.com
The Odder Side
"Simplicity is the ultimate form of sophistication", said Leonardo da Vinci. It surely sumps up the style of this Polish brand because it doesn't get any better than a basic from The Odder Side!
Actually, no Polish wardrobe is complete without a piece designed by Justyna Przygońska and Brygida Handzelewicz-Wacławek!
Always there when you don't know what to wear, from knits to t-shirts and most importantly with a twist.
High quality, versatility, future-proof design, feminity, and urbanity are the keywords that describe the brand that recently has opened its first international and Parisian boutique.
If that wasn't enough, the secret lies in the name – you can wear them usually or on the 'odder' side.
The staple pieces worth a splurge are the V neck t-shirts, jumpers and my favourite summer tops with the adjustable straps.
Wyświetl ten post na Instagramie.
And now my favourite part, I think! A chart with the brands' staple pieces that will allow you to build a fall capsule wardrobe with an almost unlimited number of looks. So save it, download it, pin it, print it and get inspired!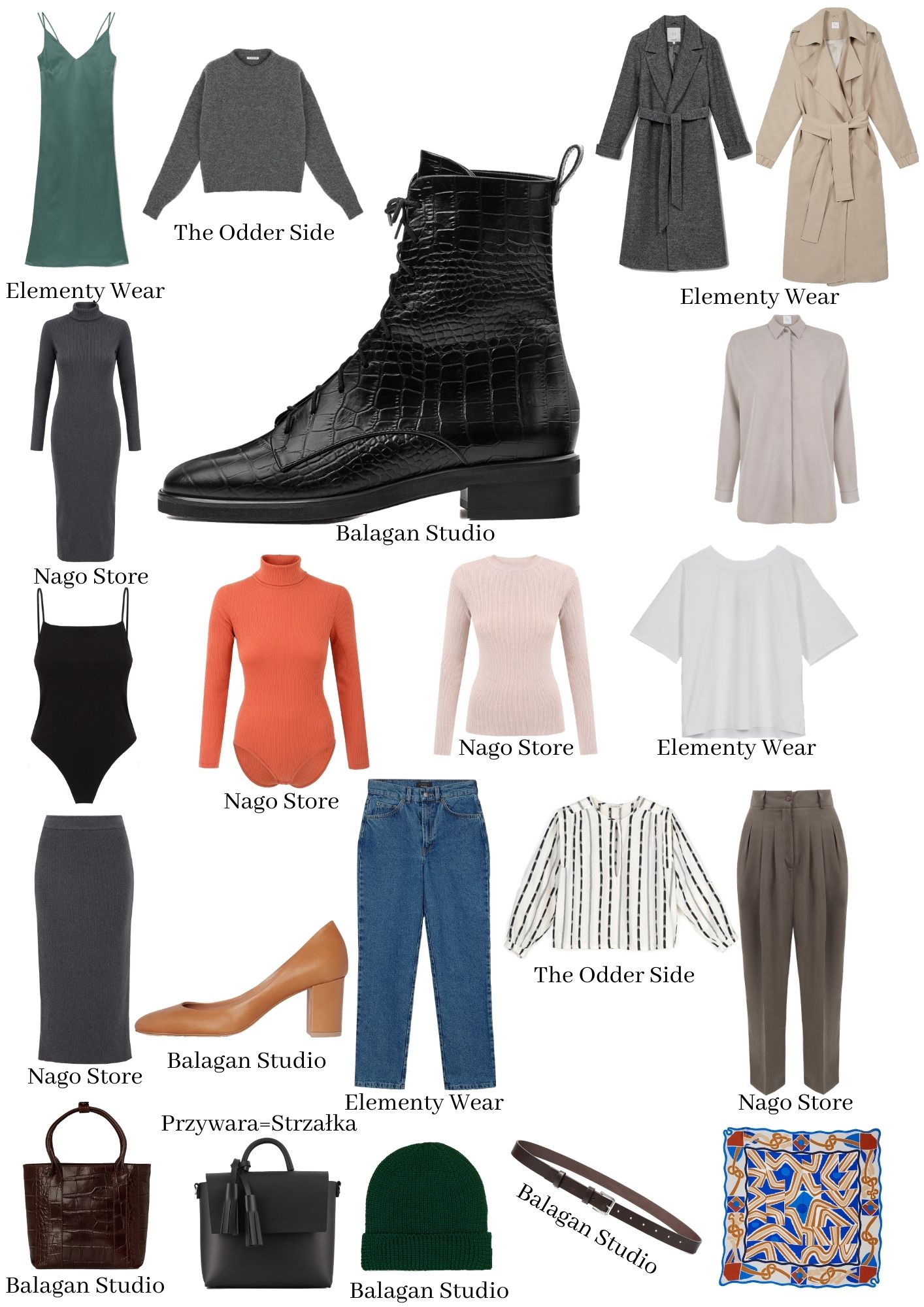 P.S This post is NOT sponsored and is based on my personal experience and honest opinion.
Thank you to Przywara-Strzałka, Elementy Wear, Balagan and Nago for giving me access to your pictures.