I wanted to make sure that each of the coffee places has something extraordinary to offer – whether it's a location, historical background, decor – I aimed to bring some local, non-basic experience!
We'll travel to Morocco, visit the 17th-century mall, learn some fashion history and mainly have a good time!
1. Starbucks Capucines
I know, I know what you might think. Starbucks? You're in Paris, and I recommend a Starbucks. But trust me, you won't regret this visit. If not for a coffee, at least for a quick glimpse.
It's located right next to the Opéra Garnier, at Boulevard des Capucines (one of the 4 Parisian boulevards), in a building dating to the 17th century that in its course of life served as an iconic fabric and textile department store!
All beautiful motifs and details are original and, thankfully, the owners decided to restore them with meticulous attention.
The place gets busy and full from early morning, but it's spacious and attracts a lot of nomads, freelancers, readers, so it's reasonably calm.
With pure honesty, it's a very inspiring place!
address: 3, Boulevard des Capucines, 75002 Paris
openings: daily from 18:45 – 22:30
---
2. Kitsuné Café Paris
This one is magical, and if you can, please go there on a sunny day – it will make the whole experience even better 🙂
Why? Because this mini treasure is situated in an old-fashioned, typical Parisian 'galerie' overlooking the Jardin Royal where during the sunny days you can sip your favourite coffee, enjoy the sweetness of the homemade cakes while admiring the beauty of this small park.
Lay down by the fountain or, sit on one of the plenty of benches and you'll feel royal!
The café itself is well related to the fashion brand – Kitsuné and has its sister branch all the way in far Tokyo.
The place is tiny, so it's not really for big gatherings but rather a quick chat if you decide to stay inside.
Standard coffee drinks and small bites if you're hungry.
One of my personal favourites!
address: 51 Galerie de Montpensier, 75001 Paris
openings: daily from 9:30 – 18:00
---
3. Boot Café
Once you get to the address, you might wonder whether it's a 'cordonnerie' (shoemaker in French) or that trendy place everyone is talking about!?
But no worries, inside you, 'll find, indeed, a small, cosy vintage-inspired café.
Space is minuscule so no secret telling if you're staying inside!
Three small tables inside and two outside, each decorated with pretty, fresh flowers (Instagram friendly!)
Primary selection of coffees and small but fresh choice of food (cookies, granola, and some cakes). (*Side note – when I went there, they only had full fat cow milk, no vegetal options).
It attracts a lot of tourists but also locals who mainly stop by to grab their drink for 'take away' (very New Yorky of those Parisians 😉 )
PYF approved!
PS. Big bonus for the neighbourhood – you can only get lost around the Marais!
address: 19 Rue du Pont aux Choux, 75003 Paris
openings: daily from 10:00-18:00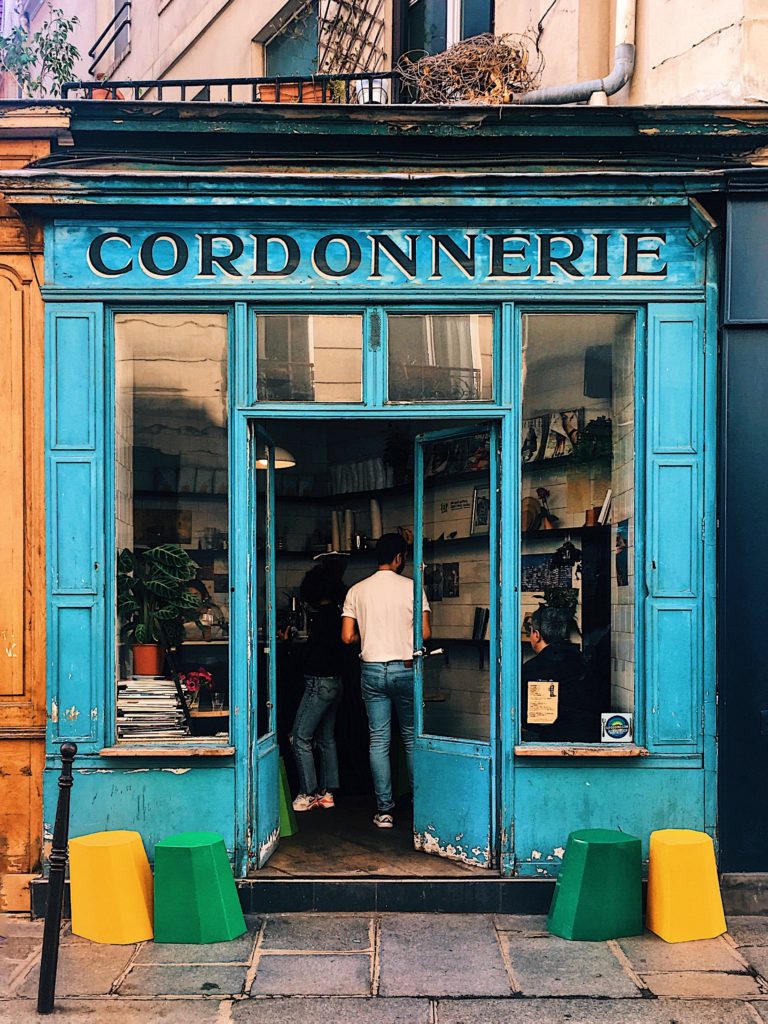 ---
4. Season Take Away
Rue Dupetit Thouars is becoming my favourite when it comes to food going out.
Located on the outskirts of the trendy Marais, doesn't get that buzzy and overcrowded as the central part. Yet, the juicy vibes are still there.
Apart from the vibes – artsy bookstores, fusion street food, restaurants and Season Take Away 🙂
Technically there are three separate Season locations – Take Away, restaurant and loft (opened only on the weekends), but it's the first one that had me at hello 🙂 Why?
Because of its reasonably small size that makes the whole experience more personal (contrary to its big sister Season restaurant that is a typical rushed over, long-lined, crowded place to be).
It's small but yet big enough to spend a good time with your friends in or outside.
You can expect a healthy menu of avocado toasts, granola, açai bowls, freshly squeezed juices and coffee of course.
Great for breakfast, lunch, coffee and as a working space!
And now the art of latte has a new meaning! A literal one! At Season Take Away, for an extra of 1 euro, you can have your foam personalised with anything your imagination has dreamt of!
A picture of your dog? A logo of your brand or maybe the latest illustration you've been working on. You dream it, and the latte printer takes care of the job. It's amusing!
Love the New York inspiration with a Marais pinch of pink.
address: 8 Rue Dupetit-Thouars, 75003 Paris
openings: daily from 8:30-17:00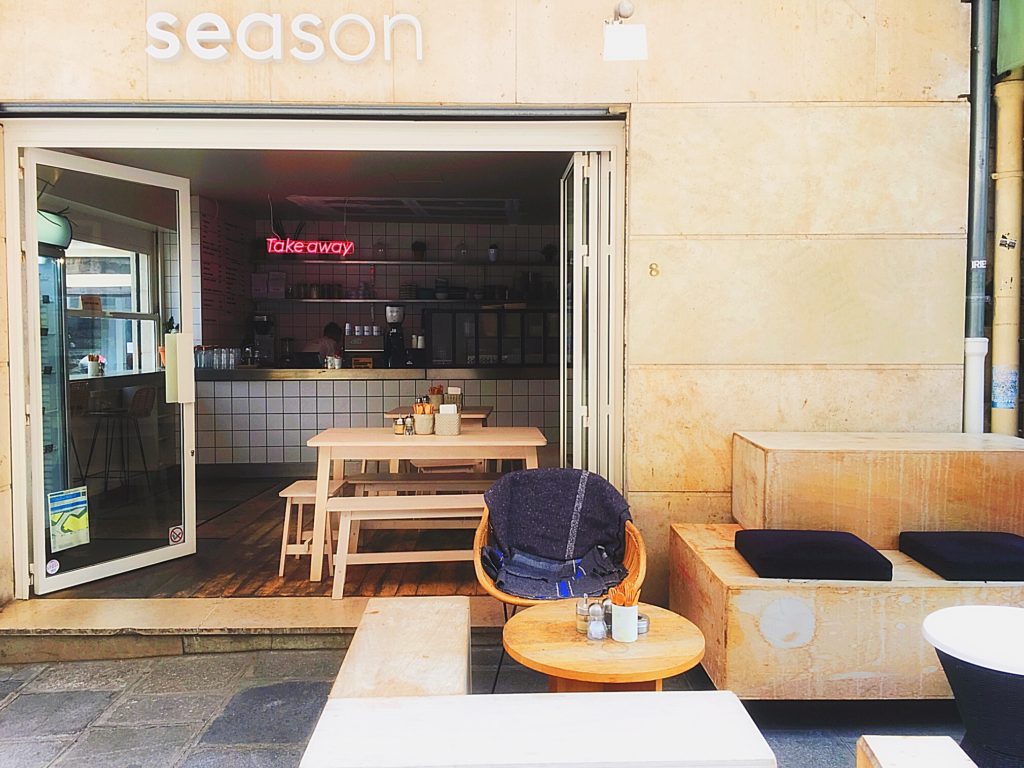 ---
5. Dose – dealer de café Batignolles
If you're looking for your local dealer, here is where to reach out.
Only this one is entirely legal and pretty good for your health! Don't thank me for that

Located in a typical Parisian bobo (shortcut to describe a new social group of young people who 'have it all' – bourgeois boheme) 17th district, gets busy and buzzy from early morning.
But that is one of the main reasons I like it that much – observing the crowd passing by, rushing to their early morning meetings and finishing off their healthy, bio breakfasts.
Plenty of tables both inside and outside so you'll always find a good one for yourself, as well something for your belly!
Homemade sweets, salty sandwiches, salads, muesli – all made with local, fresh products.
Don't miss the wide selection of freshly squeezed juices and coffee.
A big plus for the separate takeaway window. You can have it all on the go!
Enjoy!
address: 82, place Du D. Felix Lobligeois, 75017 Paris
openings: Tuesday-Friday 8:00 – 18:00
weekends 9:00 – 19:00
closed on Mondays
PS. There is another dealer in the 5th! At rue 73 rue Mouffetard but you don't know it from me!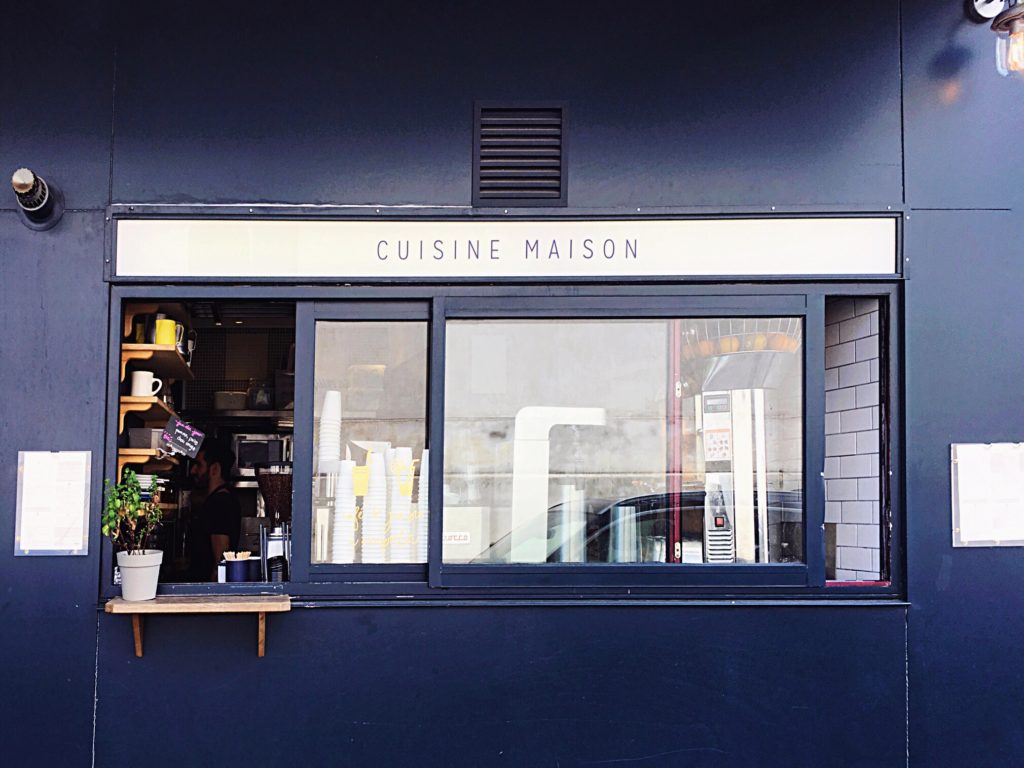 ---
6. Holiday Café
Class – that's the first word that comes to my mind after visiting the Holiday Café.
Away from the 'trendy' districts of Paris, located in a very elegant Boulogne outskirt, this place makes you travel through the continents or at least the La Manche canal 🙂
What I'm trying to say is that you can quickly feel like in New York or London!
The decor is simple and architectural, but it's the outside that brings the attention.
It all started with the American travel and lifestyle magazine – Holiday Magazine – dedicated to the artistic group of globetrotters, through a fashion brand Holiday Boileau to finally the chick and charming Holiday Café.
When it comes to the menu – it's another well thought through experience – serving typical French dishes with a touch of originality -like salmon toasts with caviar or duck confit with honey and ginger.
They are reputated with their excellent homemade iced teas and lemonade as well as great latte frappés.
If you're looking for a French brasserie with a twist and an international touch – that's the place to visit!
address: 192, Avenue de Versailles, 75016 Paris
openings: Tuesdays and Sundays 10:00 – 15:00
Wednesday to Saturday 10:00 – 23:00
@holidaycafeparis
www.holiday-magazine.com
---
7. Honor Café
I mean what's there not to like?! 😀
The original location in a court of one of the fanciest and most fashionable streets in Paris (rue du Faubourg-Saint-Honoré!), the loveliest and sweetest service you can imagine, delicious coffee and fresh pastries.
And when I say fashionable, I don't mean a trendy place to be. I mean fashion as of the art of making clothes, the history of prominent Parisian couturiers!
If you walk a few minutes, towards the Place de la Concorde direction, you'll pass by the historical Lanvin and Hermès boutiques, that served as original ateliers of the founders of respective maisons!
Jeanne Lanvin opened her first store, in that particular location, in 1889 and nine years earlier Thiery Hermès moved there with his leather production atelier – specialising in horse accessories.
I promise when you're at Honor Café, you not only honour your body with a good quality coffee but you also feed your soul with the reminiscent of the fashion past…
address: 54 Rue du Faubourg Saint-Honoré, 75008 Paris
openings: Monday to Friday 9:00 – 18:00
saturdays 10:00 – 18:00
---
8. The Hood Paris
Here is the thing – I went there for a coffee. On Saturday. At 7 pm. With my bestie. (Yep, we drink our coffees late)
When ordering, the stuff told us that the coffee machine had been closed since 6 pm. Then, I did some digging and found out that it's a sort of rule for some coffee shops to encourage the French to drink less of the black potion!
Anyway, we thought we might as well stay for a drink and something to bite.
The evening menu is presented in the form of tapas, and you're suggested to share 3 – 4. It's mainly vegetables (these are the options we went for) with a meat option too.
The plates are small and pretty expensive (around 7 euro per tapa) but fresh, healthy and well seasoned.
I'm mentioning the potential overprice ness because it's important to look at it as a bigger picture and make your own choice: you're in a classical bobo (check point 5!) neighbourhood, space and concept are creative and fusion together the food, music and art lifestyle. Someone has put their mind, idea, and heart into it. Now it's up to you if you want to be part of the Hood experience or pass it.
I think it's worth it and it stands out among other bistros, and since technically it's a coffee shop in the first place, I decided to include it in my list!
address: 80 Rue Jean-Pierre Timbaud, 75011 Paris
openings: Mondays, Wednesdays, Sundays 8:00 – 18:00
Thursdays, Fridays, Saturdays 8:00 – 22:00
closed on Tuesdays
---
9. Peonies Paris
Such a lovely, girlie experience.
I wouldn't like to exclude the boys but it's so appropriate for an afternoon date with your girlfriends where you can enjoy a pink matcha drink and bite into flower biscuits!
Space is decorated in green and pink which can be a controversial combination but works impeccably with the style of the place and the attitude of the stuff. Flowery, sweet and cute 🙂
If that wasn't enough the Peonies is serving also as a flower shop where you can make your beautiful bouquet of seasonal flowers OR take part is many workshops like flower photography or cake design!
Doesn't it sound like an ideal Saturday spent with your bestie?
Next time, I'm coming back with mine for sure!
P.S If you're more on the salty note, no worries! Peonies are preparing daily salads, rolls, and avocado toasts 🙂 All sprinkled with the flowers!
THE COFFEE PLACE IS CLOSED
---
10. Café Verlet
Imagine it's 1880, the optimistic and culturally rich era of the French capital.
The burlesque shows are becoming the biggest sensation, the economy is boosting, many arts are blooming, including the one of the haute couture.
Bohemian lifestyle of the nouveau-riche and the famous Belle Epoque is settling its unconventional paths.
At 256 of rue Saint-Honoré, a longtime traveller, Auguste Whoehrlé, decides to open a store selling typical colonial products like rice, tea, and some coffee.
Followed by huge success, one of his descendants Pierre Verlet opens a real coffee salon selling, this time, mainly coffee beans from all around the world.
The Café Verlet is born.
Fastfowarding to 2018 – having been created in a completely different era and despite its old age, Café Verlet is doing a great job in attracting a young clientele of numerous hipster boutiques of the Saint-Honoré street.
I love bringing there my visiting friends – for a great coffee break on the way to the Louvre or a cup of hot tea before we walk towards the Opéra Garnier.
address: 256 Rue Saint-Honoré, 75001 Paris
openings: Monday – Saturday 9:30 – 19:00
closed on Sundays
verlet.fr
---
11. Oultma Paris
If the Boot Café (check point 3) gets too busy and there is a big chance it will, I've got a just-across-the street option.
And it's as good if not better!
Oultma is a Moroccan café that welcomes you with its bright and white decor, smiling owners and fabulous oriental smells coming out of the kitchen.
I felt as if I was entering into a beach cabana in the north of Morocco – fresh, cosy, relaxing and so well received!
On the menu – homemade, bio and local. Moroccan pastries, granola, freshly made daily lunches (by default Moroccan cuisine never disappoints!) and a good choice of coffees and teas.
Since there are no proper tables and you'll be sitting on low stools, it's not really adapted for computer working. And thank god for that!
It feels more like a retreat for your soul and mind where you can sit back, take a breather, chat with the owners or get lost in your favourite book.
Not to be missed!
address: 18 Rue du Pont aux Choux, 75003 Paris
openings: Wednesday – Sunday 9:30 – 18:00
closed on Mondays and Tuesdays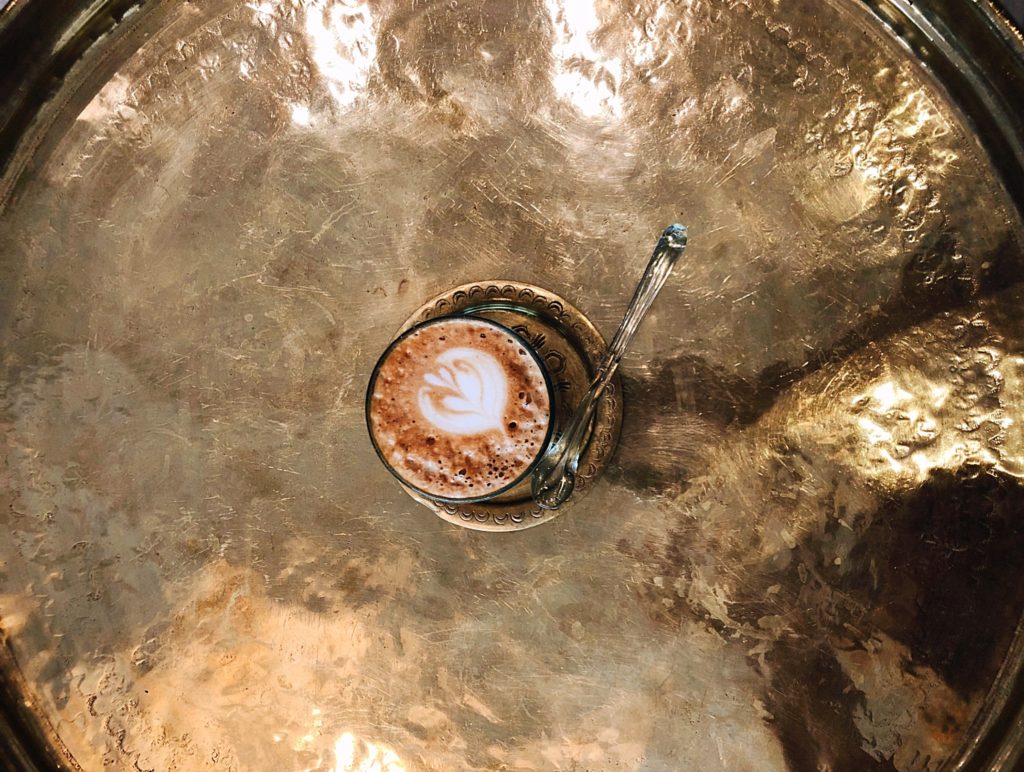 ---
12. Passager Café
This is a coffee shop of a new generation.
Created by a famous Parisian blogger Fanny (@fannyb) quickly received a title of the place to be around the 11th district.
And no surprise it is, with an extra plus to me – not so many tourists! Mainly locals who stop by for a takeaway or nomads who install themselves with their laptops.
Edgy yet effortless interior with its brick walls, concrete bar and tall windows that create a lovely play of lights on the tiled floor.
As if Brooklyn decided to meet with Berlin and they both came to Paris 😉
Now that we covered the trendy #aesthetic part, let's talk about the #foodporn.
The cart is short yet satisfying for both your bellies, and Instagram feeds 😀
Avocado/salmon/beef toasts, granola, pancakes or homemade scones and carrot cake.
If the weather lets you, outside tables are waiting for you too!
Hope you'll enjoy it!
address: 107 Avenue Ledru-Rollin, 75011 Paris
openings: Tuesday – Saturday 8:30 – 18:30
Sundays 10:00 – 18:30
closed on Mondays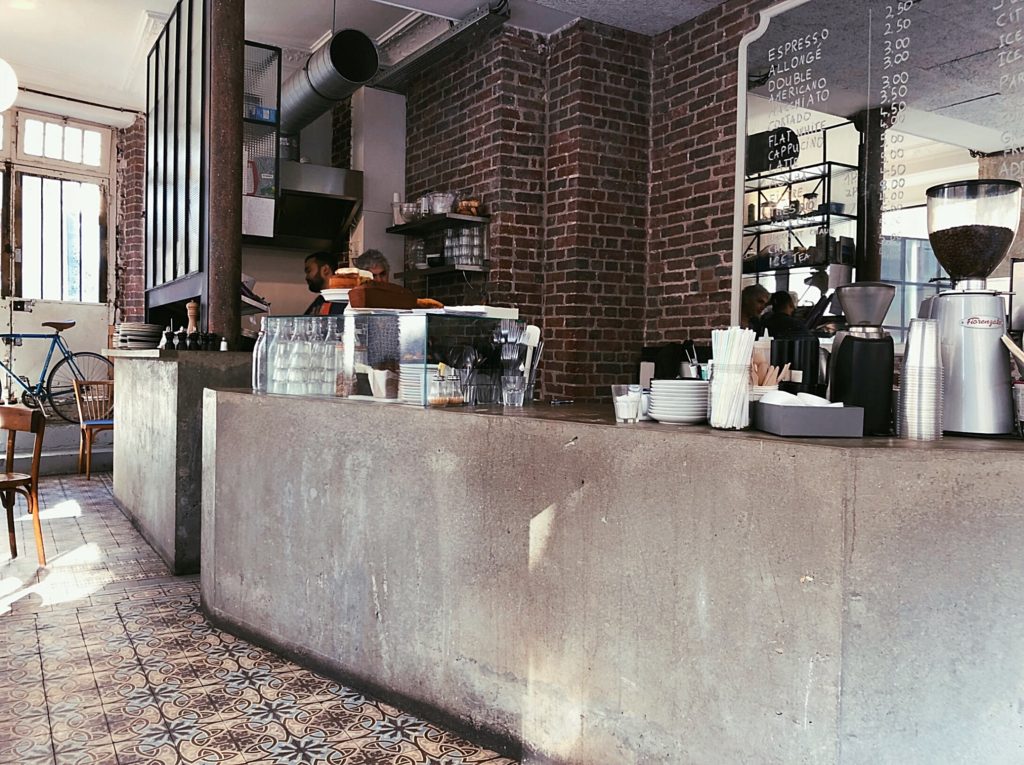 ---
It's a wrap, guys!
Have you already or will you visit some of these coffee shops?
If so, let me know!