King of deconstructionism, master of recycling, trendsetter, one of the few that deserves to be named a creator – Martin Margiela.
Belgian designer started his career next to another controversial character – Jean Paul Gaultier, to grow to be an icon himself.
His whole career was a form of a manifesto against the luxuriouity and commercialization of fashion.
He was a revolutionist who never aimed to be a star. He rather wanted to promote a certain ethics and respect towards the history of fashion and its clients.
Galliera Museum or as it is called now the City of Paris Fashion Museum showed its first fashion-related exhibition in 1985 and since was showcasing rather industrial art.
Only in the course of the new millennium, it shaped to be a space completely devoted to the art of clothes, accessories and its rich history.
It already hosted retrospections of the likes of Madame Grès, Azzedine Alaïa, Jeanne Lanvin, Balenciaga, Dalida.
The time has finally come to pay a tribute to Martin Margiela and I would like to invite you to join me for a walk through some of his most remarkable moments and pieces from his career!
First show
For his first fashion show (1989), he laid a simple cotton cloth that served as a catwalk (left pic), to then use the very same fabric to create tops for the 2nd collection(right pic):
We're witnessing here the direction in which the designer will go in his career – a master of hand-crafting from reclaimed objects and symbol of independence in creativity.
As you might have noticed the recycled top is assembled together using a … scotch tape.
The first collection introduces also one of the most emblematic pieces of Margiela – the split toe shoes that were inspired by the Japanese traditional tabi shoes.
It wasn't only the visual aspect that was so attractive to the designer – according to the reflexology, separating the big toe was stimulating the functioning of the heart.
He also studied the right height of the heel so that it brings comfort and stability to its wearers.
1990
The third collection, presented in 1990, was probably the most important one in Margiela's career and it brought him to the surface of the international fashion scene.
That's the year where he replaces impeccably assembled garments by raw finishes that would stay in the process of fashion creation until today.
He uses supermarket's plastic bags as fabrics and for the very first time introduces the fascination of the oversizing.
Number 90 motifs are present on all pieces of the show – some glued, some embroidered and others printed. It symbolized the literal year of the collection but also Margiela's hatred towards the 80s as well as political changes happening in Eastern Europe.
The collection is described as 'trashy', destroy-like, shocking and sometimes childish.
Mum's knitwear
The following collection (autumn/winter 1990-91) showed again his incredible creativity and practicality.
Not having any knitwear supplier in reach, he asked his mother to knit a jumper inspired by a punk culture. To do that she used a pair of broomsticks! (beforehand shaped by his father) and created this irregular knit design (seen on the below blue pullover).
To make it more impressive, she produced over 40 of such pieces in 3 colourways: blue, rose and black.
If you look closely at the punk sweater style, you'll see a black dress underneath, it introduces another significant piece of Margiela – a lining – that before was considered as an inner part of a garment. He revealed it to the surface, giving it a more important role.
Why was lining so inspiring and important for Margiela? Because, it was a symbol of comfort and simplicity – two values he cherished a lot.
Hippie ball gowns
The Summer 1991 collection is a true example of a craftsmanship of recycling. He gives a second life to ball dresses from the 50's by cutting them along the central seam and by transforming them into tunics (original dresses were too small since they were made for bodies squeezed by corsets!) .
He's also introducing denim for the first time with a smart assemblage of a jean jacket and torn apart jean pants!
Sock jumper
Winter of 1991-92 of Margiela will probably be remembered by his sock jumper…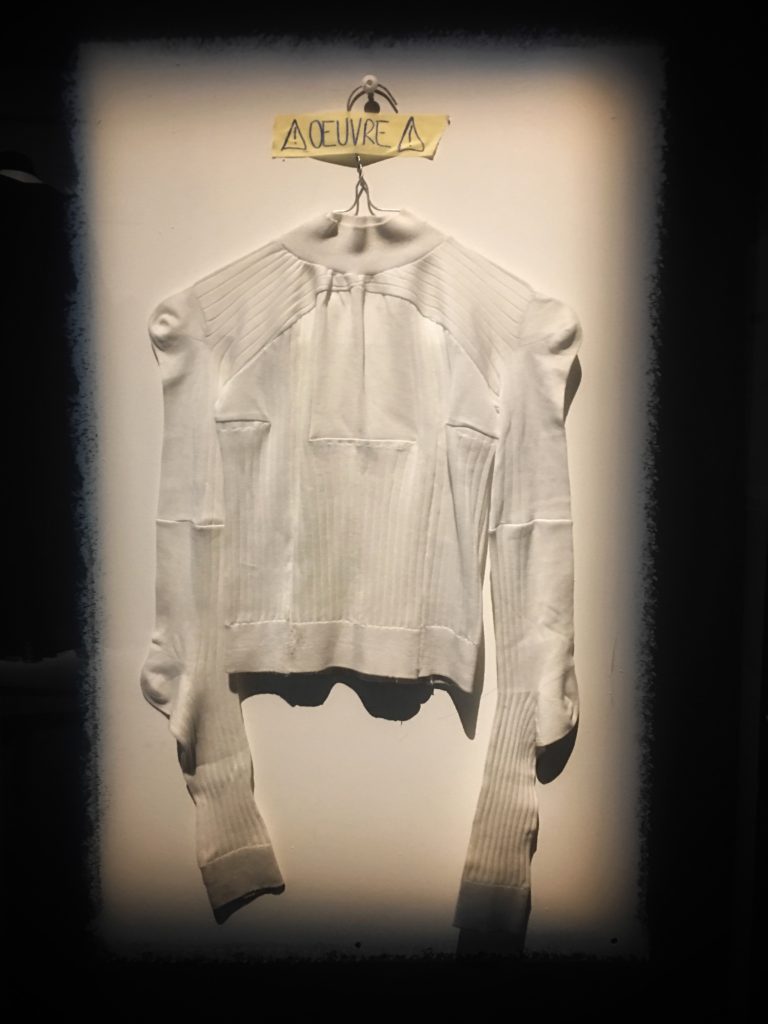 Yet again, lacking a proper knit supplier and having a big need of introducing a tight jumper, he decided to create one out of socks…
Every step of the process was mathematically thought through to give a yet another genius garment that you can totally DIY!
Colourful prints
His smart re-usage style was directed not only towards the objects. For the Summer 1992 collection, he used a closed  Parisian metro station (so-called "ghost terminal") – Saint-Martin- as a location for the fashion show.
It wasn't also hard to notice that the models were not necessarily the stereotypical tall, thin, long-legged ones.
Instead, he invited regular shaped, "non-models" women to showcase the collection which itself remained very commercial with simple and straight silhouettes.
What is noticeable from the start is the prints and splash of colours that Margiela wasn't usually a big fan of. He achieved that by using reclaimed scarves and wrapping them around models' bodies.
Black and white
When you think that Maison Margiela can't surprise you anymore, you can't be more wrong!
For the Summer 1993 collection, he decided to organize two separate shows – the 'white' one in an abandoned hospital (transformed into an artist squat) and the 'black" one in a garage belonging to the late Boris Vian*.
Each show was completely dedicated to the two colours that carried the names of the events.
For both, the garments were purchased at an auction and were dating to the 18th century!
Being in very bad condition, the atelier had repaired the pieces and added to the them a new breath of life – some were painted black and others bleached in white…
Ridiculous fashion
Margiela knew how to mark his prints in the history of fashion. For the very first time in the modern fashion era and to celebrate his 5 years on the market, he prepares a presentation rather than a motion-like show. To make it even more significant, during 9 days, the designer had shown a 'retrospective' collection gathering his favourite pieces made to date.
Garments of Summer 1994 were the exact same copies as the original ones but dyed in grey to give it an unified sense.
It was also a certain form of a protest against the ridicule aspect of fashion and the absurd of need of novelty every season.
AIDS campaign
Margiela participated also in one of the very first charitable campaign organized by a fashion designer – he released a T-shirt with a bold statement – 'There is more action to be done to fight AIDS than to wear this t-shirt but it's a good start".
He believed a strong sentence in regards to an important subject will bring attention to the issue and launch the needed conversation.
T-shirts were re-launched for the following collections.
Stockman
One of the most radical but remarkable collections of Margiela must be the Summer 1997 one (shown along with the Autumn/Winter 1997-98).
The Belgian artist based all pieces on the Stockman** used usually in the very beginning processes of creation for most designers.
Margiela wanted to show the 'behind the scenes' part of fashion and to demonstrate a more 'seamy' side of it.
Each garment was shown in an 'unfinished' form and yet again revealing to the surface what usually stays unseen to the eye of a customer.
Bed covers
Collection Autumn/Winter 1999/00 is introducing two, emblematic now, pieces – a wine cork necklace and a puff jacket made out of duvet…
Margiela was utterly obsessed with serving red wine drinks at any occasion and the necklace was a form of iconization of his favourite liquor.
The puff jackets, on the other hand, brought so much attention and inspiration that the late Bill Cunningham*** himself dedicated a whole article about it in the New York Times.
Oversizing
Year 2000 marks a new era not only to the world but also to Margiela's artistic expressions.
His passion for over-sizing is finally transformed into a whole collection and forms a canvas to his future designs.
He recycled stereotypical masculine garments from the 60s and widened them of 200% in the in-house atelier!
One of my personal favourites of the whole retrospective were two pieces, originally presented for Summer 2001.
Dresses constructed from reclaimed skirts, leather gloves, and labels!
The skirts were made out of  few vintage pieces sewed together, to give it a more over-sized look.
Rotation
Another form of deconstructionism, introduced by the designer for Summer 2005, was a rotation.
He placed some garments upside down, others by 45′ to, yet again, review the concept of fashion and its interpretation.
Revolution
The year 2006 brought Margiela a lot of contemplation and questioning of where his designs were going.
Starting with asking himself a question: "What would I do today if I were to launch my very first fashion show?" ended up with a harsh divorce with previous way of perception of fashion.
He wanted to reach out to the same woman, but that woman was evolving along with the flow of the new millennium.
The designer who despises colour, and especially mix of different shades, decided to dig into his childhood memories of supermarkets from the 70s which facades were covered in red, blue and white – often with striped or dotted patterns. And that is how the creation of the Summer 2007 collection began.
To make it even more intense and significant, he introduced for the following collection (Autumn/Winter 2007-08) fluorescent colour palette – something so contradictory to what Margiela got us used to.
Having opposed before to the trends of the 80s, he introduced a widened and very square shoulders, that became a new trademark until the end of his career.
Last show
On the 29 of September 2008, Maison Martin Margiela is presenting their Summer 2009 collection which turned out to be the last one under the artistic vision and wings of the founder himself.
The last show is made up of 40 styles and is a pure and direct reference to his past creations. It's a form of, yet another, retrospective. Only this time, to everyone's surprise – the last one.
The collection is built on all his characteristic pieces and symbolical messages he always tried to transmit through his designs.
Blacks, whites, reds, and nudes.
Oversizing, deconstruction, recycling and raw materials.
Garments are not just stitched panels of fabrics, they have a story behind each of them, they have a meaning and its proper usage.
They remind us to think out of the box, to dare, to modify and create without limits…
And they were an excellent summary of the undoubtful genius of the Belgian.
* Boris Vian – French poet, artist, investor, publishing under a name of Vernon Sullivan.
** Stockman – name of a brand producing one of the most important elements during the process of creating a collection. An armless and legless wooden or plastic model on which designers shape their garments. Often used in shops to present the clothes.
*** Bill Cunningham – fashion reporter and photographer for such newspapers as The New York Times, Women's Wear Daily or Fashion Tribute
Palais Galliera, musée de la Mode la Ville de Paris 
10, avenue Pierre Ier de Serbie
75116 Paris
Tél : 01 56 52 86 00
Full price ticket: 10 euro
Reduced price: 8 euro
(discount  if you own already a ticket for the exhibition "Margiela, les années Hermès" at the Musée des Arts Décoratifs – full duration; and if you own a ticket for Yves Saint Laurant Museum – valid only on same day)
Openings: from Tuesday-Sunday 10h-18h
Late opening on Thursdays – until 21h
Closed on Mondays
www.palaisgalliera.paris.fr
@palais_galliera
(exhibition closed)
---