Expo throwback: Margiela, Hermès years
Paris is yet again being blessed with the art of Martin Margiela. Firstly with the retrospective at the Museum Galliera and now at the Musée des Arts Décoratif.
This time we're invited to his aesthetic visions introduced through designs of iconic Hermès.
Overview
Margiela worked as Hermès' woman ready-to-wear creative designer during 12 emblematic and unforgettable collections (from 1997-2003).
When appointed, he was already an important and extravagant figure on the fashion scene.
Known for his avant-garde and deconstructed designs, this choice seemed very controversial from a commercial point of view.
It's almost sure that it was a deliberate move. Hermès's president and artistic director Jean-Louis Dumas brought through Margiela a wave of modern luxury.  And without any doubt, it remains with the brand up to date.
What distinguishes this particular exhibition is actually its form of a comparative journey, almost a dialog. On one side Margiela designing under his own name and on the other under Hermès' brand.
What also deserves a special attention is the fact that Margiela has completely abandoned the colourful prints, scarves, H logo, and even the Kelly bag. All absolute staple pieces of this Parisian fashion house.
It was without any doubt, a typical for Margiela, opposition to the commercialization and 'labelization' of fashion.
His aim was rather to bring in quality, wearability, and tailoring. More important was how his clients feel wearing his designs rather than the visual aspect it brings.
The secret was laying in an impeccable technique, cut and practicality.
PS. All the styles presented on the orange background are showcasing the Hermès part and the white background Maison Martin Margiela.
Shape differences
One of the biggest differences that can be noticed right away (between the designs for both brands) is the shape and silhouette of patterns.
For Hermès Margiela keeps them unified throughout most of his collections – they are simple and follow the natural shape of its wearer (left picture).
For Maison Margiela, on the other hand, he never stopped experimenting. Mainly within the shoulder area – from extremely narrow and tight to large and oversized (right picture).
Versatile garments
A symbolic element of his designs was, what we would call today, a versatility of the garment.
He liked the idea of transforming one piece into another in just a few simple motions.
An example is the famous deep V neck designs which were constructed so that sleeves can be slide down through the cut and tied up against the waist.
Structure
Another illustration of the 'recyclable' and sustainable approach is the 'trikini'. A swimsuit built out of three removable pieces that allowed woman to combine and layer  according to  their preferences:
He used same structural idea for Margiela, keeping it though more conceptual: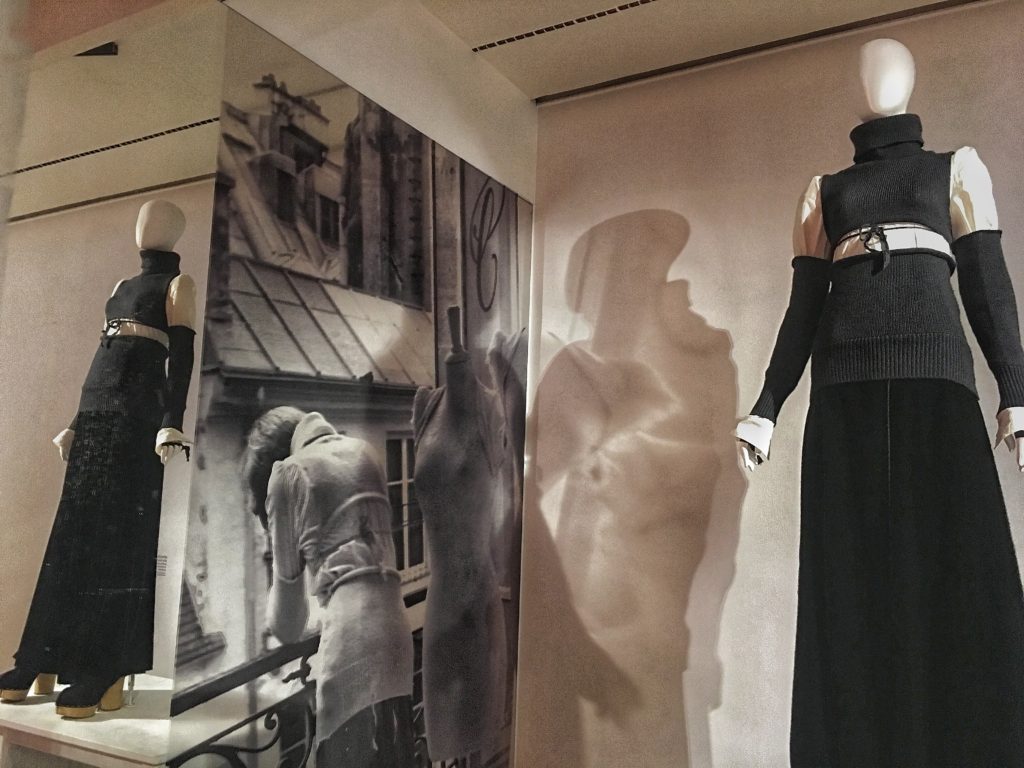 Western inspirations
Belgian's passion for Western influences can be recognized through the most basic wardrobe pieces like white shirts, tuxedos and trench coats – both for Hermès and Maison Margiela.
Evening wear
He could not deny how important an evening wear was to any fashion house, he still introduced it only a few seasons after joining Hermès.
And also this time the designs brought some new approach, using long tunics/sweaters and combining them with long skirts or pants.
Yet not forgetting about the famous versatility. Like below tunic (left picture), that can also be worn as a cardigan if turned to the front.
For Margiela especially, he was fascinated with linings – usually a hidden layer of the garment. He brought it to the surface and used as a separate and individual piece (right picture)
Oversizing
Another artistic obsession was over-sizing. From early years of his career, he was fascinated by the enlargement of the clothing. His first 200% scaled up designs were presented in 1989 and were a signature of other collections as well.
What intrigued Margiela the most was the complexity and technicality of the oversized pieces.  As a consequence, all his suppliers and ateliers were obliged to re-program their machines to fit into this non-standard scaling!
Once, even, he got inspired by the doll clothes… which resulted in the production of a Barbie knit jumper adapted to human size!
He, yet again, took the concept of creation to another level!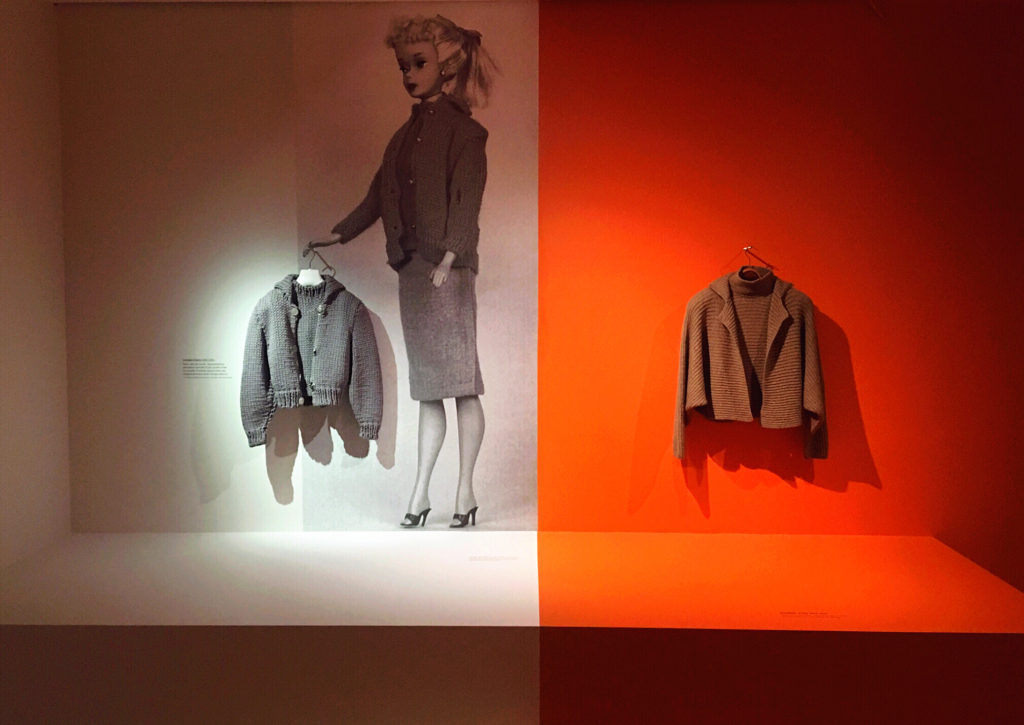 Sock jumper
Margiela was obsessed with the knit and while for his own label he didn't have access to many human and financial resources – joining Hermès was a game changer. He was introduced to the most traditional and best techniques of the art of cashmere that helped him to achieve his secret ambitions.
One of the most emblematic characteristics of the Margiela deconstructionism was leaving the garments unfinished and with visible seams. That's why for the MMM a jumper made out of socks was no surprise (see Margiela x Galliera for more details).
However, having had to accommodate his style to the legacy of Hermès and having all new possibilities in hand, he developed a completely seamless cashmere sweater.  He took an alternative way.
Leather craftsmanship
Margiela was no stranger to leather and liked experimenting with it. Being at the head design at such exquisite maison as Hermès he used the most expensive types like deerskin, lambskin or even the crocodile skin.
What's more, he used it not only as an outer garment but also as a lining… – making the inside identical to the outside so that it can be worn even inside out!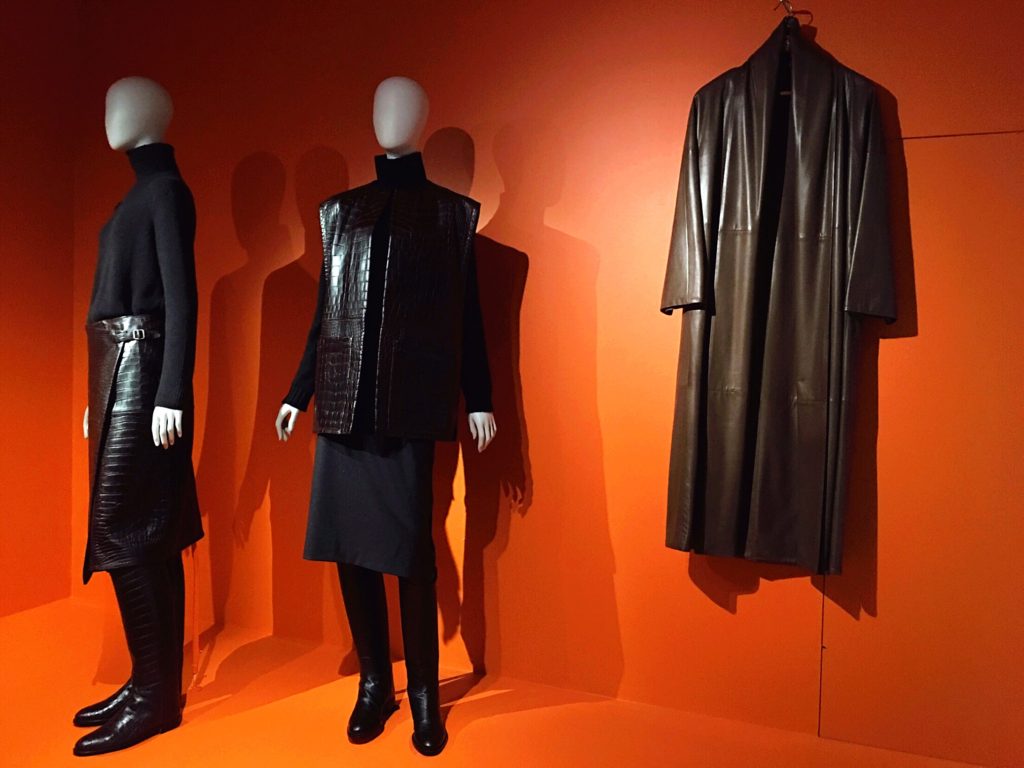 For Margiela brand leather is also a frequent element. Here, however, he's using often an eco-leather or recycled vintage pieces. The material was often transformed to fit into a given collection – sometimes bleached, others dyed or aged.
Losange
As mentioned at the very beginning, Margiela completely abandoned all the 'commercial' pieces that usually sell like fresh bread and are the first source of income for fashion businesses.
To everyone's surprise, the typical, printed Hermès scarves, which designs served even during the WWII as a political voice, were removed completely from the collection.
Only by the end of his career at Hermès, he introduced a 'losange' – a diamond shaped silk scarf in three sizes.
For Margiela, on the other hand, he dedicated an entire collection to vintage-hunted, printed scarves and created all kinds of draped outfits out of them.
No to logo
Unexpectedly ( and to no one's surprise at the same time!) he decided to remove all possible Hermès labeling, including the logo that was so popular in the mass culture.
Instead, he introduced an innovative replacement – a six-holed button with a delicate and discrete "H" logo embroidered on top.
Another Margiela's footprint left on the Hermès heritage list is a 'double tour' watch. It became as important and iconic for the Hermès legacy as the Kelly bag itself!
You can't call Margiela anything else than a true artist, a creator, a visionary that managed to bring in a modesty into a strict and conventional world of luxury.
Appointing him at Hermès might've maybe been a controversial move. In reality, it was a great one. The uniqueness of the Belgian has changed the rules of the fashion game forever.
His conceptual perception of fashion has actually brought value;  unforgettable anecdotes; hours of hard work and very precise technical calculations – so rare in the commercialized and fast fashion world we're living in…
Do you agree?
Musée des arts décoratifs de Paris
107 Rue de Rivoli
75001 Paris
Tél :01 44 55 57 50
Full price ticket: 11 euro
Reduced price: 8,50 euro
(discount  if you own already a ticket for the exhibition "Margiela Galliera" at the Galleria Museum – full duration)
Openings: from Tuesday-Sunday 11h-18h
Late opening on Thursdays – until 21h
Closed on Mondays
madparis.com
@madparis
(exhibition closed)
---