Lisbon – world's capital of street art
Street art, urban art, mural art, open-air gallery.
However you name it, undoubtedly, it found its way on the twisted map of contemporary art!
Its relation to graffiti is inevitable, yet its influences are way broader. More often than not murals are touching social, political and cultural aspects using more modern means of expression. Traditional spray paints are being used next to a technique of stencil, sculpturing and hand painting!
In fact, what used to be considered as vandalism is now a very much respected form of art!
And Lisbon is like a lost island with plenty of hidden mural treasures! Known for its rich history, narrow streets of Alfama and tasty pastel de nata, street art is next on the list!
The artworks I covered are the ones that impressed me the most in one way or another. I know, there is so much more to discover and admire so feel free to share your favourite pieces!
Death penalty abolition by Mário Belém
This colourful mural celebrates the 150th anniversary of the removal of the death sentence in Portugal.
By the way, did you know that Portugal was a pioneer and one of the first countries in the world to incorporate this new legal system, in 1867?!
Location: 36 Calçada de Santa Apolónia
Artist: www.mariobelem.com
'Versus' by Pichiavo
Right next to the 'Death penalty abolition' wall, if you walk a few minutes opposite direction of the train station, you'll stumble upon this beauty. Missing it is hard!
I don't think 'Versus' is the actual name of the work. But, surely, it was prepared for Pichiavo's solo exhibition carrying this title.
The expo took place at the iconic Underdogs Gallery and was a celebration of the"creative act."
The duo of Spanish artists is known for their exceptional fusion between classical and contemporary art.
Location: 65 Calçada de Santa Apolónia
Artist: www.pichiavo.com
São Vicente de Fora mural by André Saraiva
This one requires a little bit of climbing, but it will probably be one of the best murals you've ever seen! Well, at least it will be one of the longest.
It's also an excellent example of fusing street art with tradition — a well-recognised feature in Lisbon.
André Saraiva presented, on 53000 hand-painted Portuguese tiles, an incredible futuristic vision of Lisbon and other cities!
The artwork is 170m long and brings so much positivity and happiness to the historic neighbourhood.
Check it out during the 'Feira da Ladra' flea market to see how the modernity mingles up with the vintage!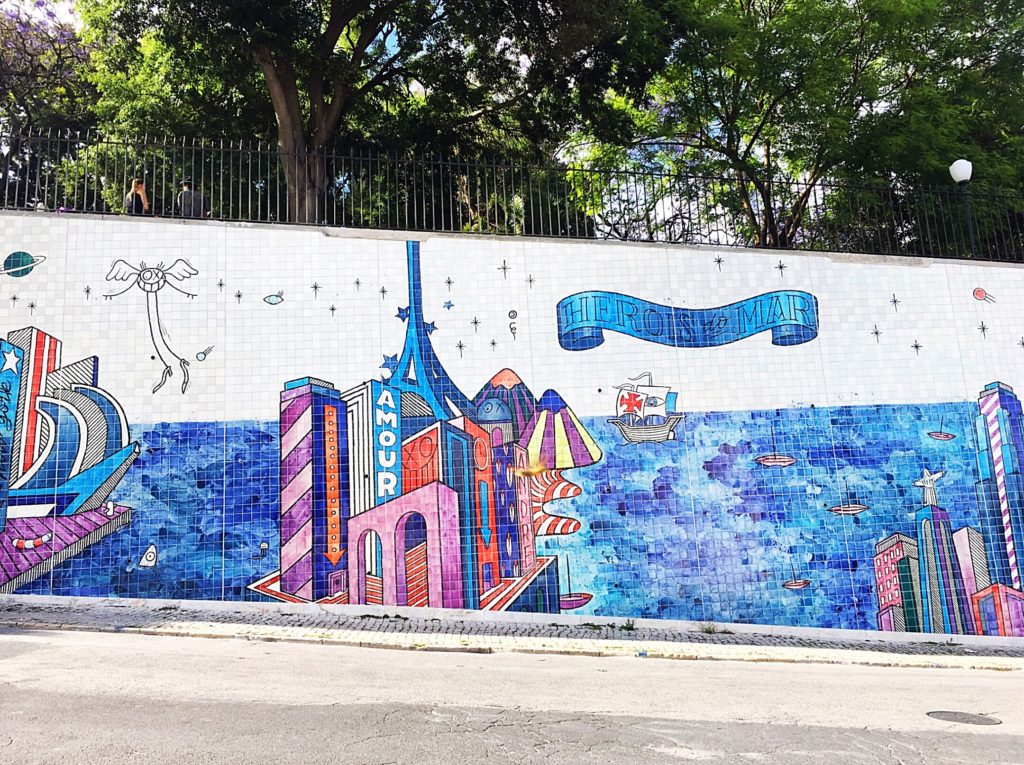 Location: São Vicente da Fora / Feira da Ladra
Artist: www.mrandre.com
Muslim woman by Shepard Fairey and Vhils
This one is a stunner! But what else could we expect from this fantastic collaboration between two gurus of street art – Shepard Fairey (a.k.a obeygiant) and Vhils.
As a consequence of their joint work, we can admire Vhils' intrigue sculpture technique and Fairey's iconic colour palette. At the same time!
Not to be missed!
Location: 39 Rua da Senhora da Glória
Artists: obeygiant.com @obeygiant
Revolutionary woman by Shepard Fairey
Another breathtaking work from the American! This time the mural serves as a memorial of the Portuguese Carnation Revolution that took place on the 25th of April 1974.
What initially was planned to be a real military coup, developed quickly into a peaceful manifestation of civilians. As a result, the protestants were handling, in a symbolic matter, the carnation flowers to the soldiers!
Not to mention, it's a perfect inspiration to dig a bit deeper on Portuguese history.
Location: 11 Rua Natália Correia
Artist: obeygiant.com
Once upon a time by Isa Silva
This mural is like kids' imagination – colourful, sometimes mysterious and sometimes magical!
It is also a part of Isa's artistic project of Square Faces that she is always drawing in square shapes and very bold and intense colours. For each of her work, she takes up ideas from four inspiration sources: Imaginary, Known Personalities, Fictional Characters, and Children's Stories.
Since this particular artwork is decorating a school, the Children Stories theme seemed like an ideal fit!
Location: 28 Rua Natália Correia
Artist: isasilva.com
Graça by AkaCorleone
I love AkaCorleone's style! Simple, almost naive shapes, strong, contrasting colours, and fun to watch!
This particular one is an artistic imagination and tribute to the Graça neighbourhood where the artist grew up himself.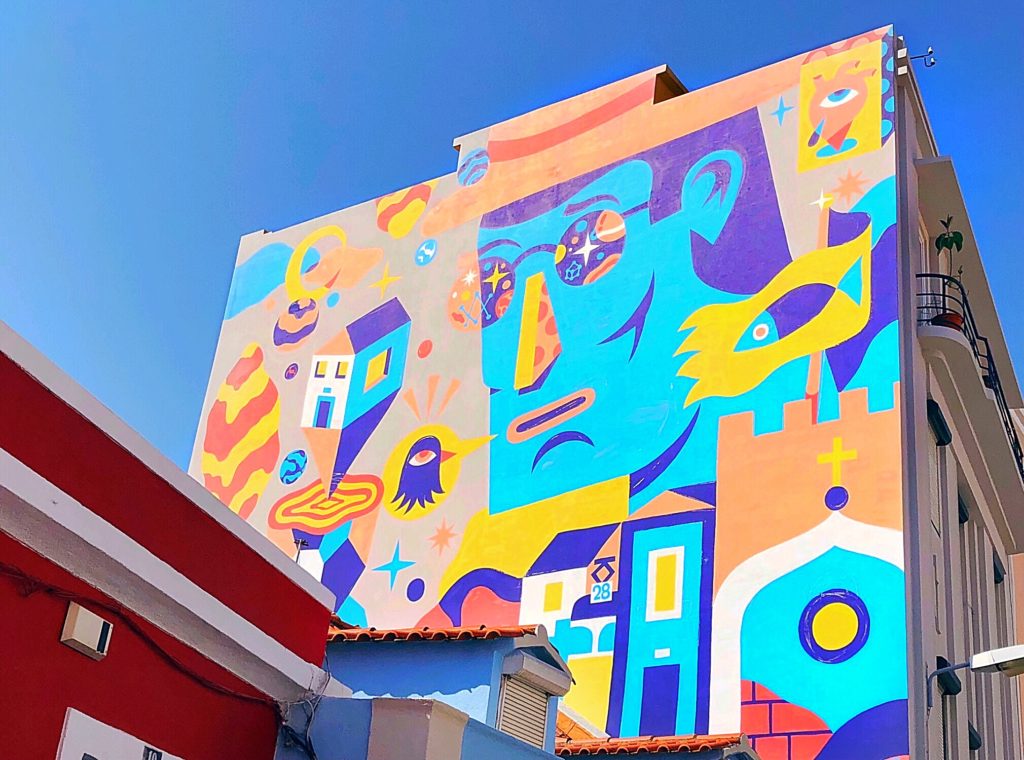 Location: 21a Rua Damasceno Monteiro
Artist: @akacorleone
Animated Revolution by Pariz One and M. Dheo
We're not going too far and staying in the Graça area. What's more, once again we're commemorating, through the street art, the Portuguese Carnation Revolution.
But this time in a less usual and more amusing way! Several pop culture characters got together to tell the story, and also attract the younger part of society!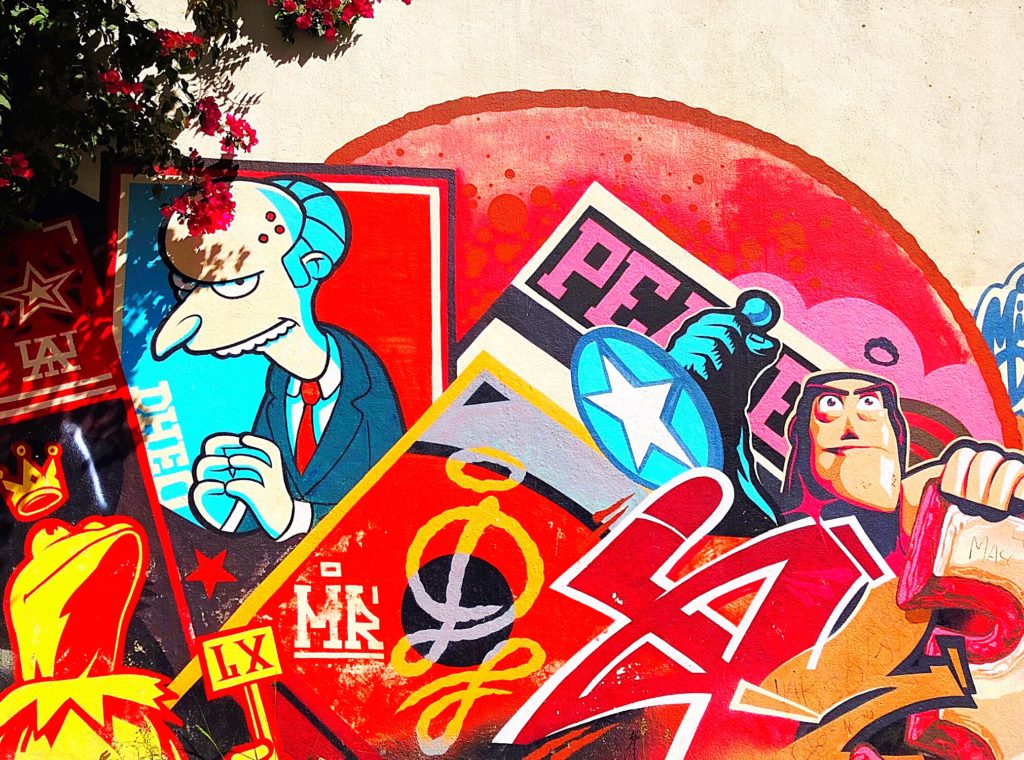 Location: Travessa de São Vicente de Fora
Artists: www.mrdheo.com @mrdheo
KLM by AkaCorleone and Hedof
This eye-catching mural is a Portuguese/Dutch artistic fusion. Curated by KLM, created to celebrate 75 years of flights between Lisbon and Amsterdam!!
Update 27/04.19! The wall was painted back to white 🙁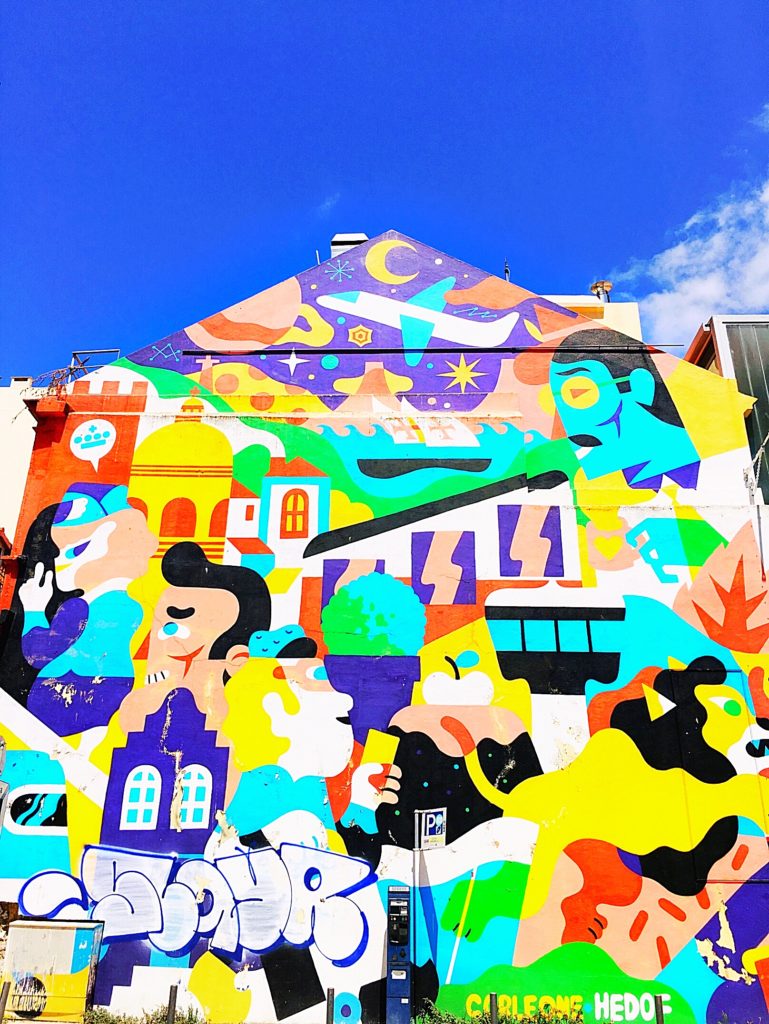 Location: Largo Hintze Ribeiro
Artists: @akacorleone
Batuko Experience by Frederico Draw and Ergo Bandits
Batuko is a popular dance from Cape Verde, inspired by the African tradition and always performed by a group of women.
This time, to celebrate the opening of the new Cultural Centre of Cape Verde in Lisbon a group of street artists got together and created this smashing urban art!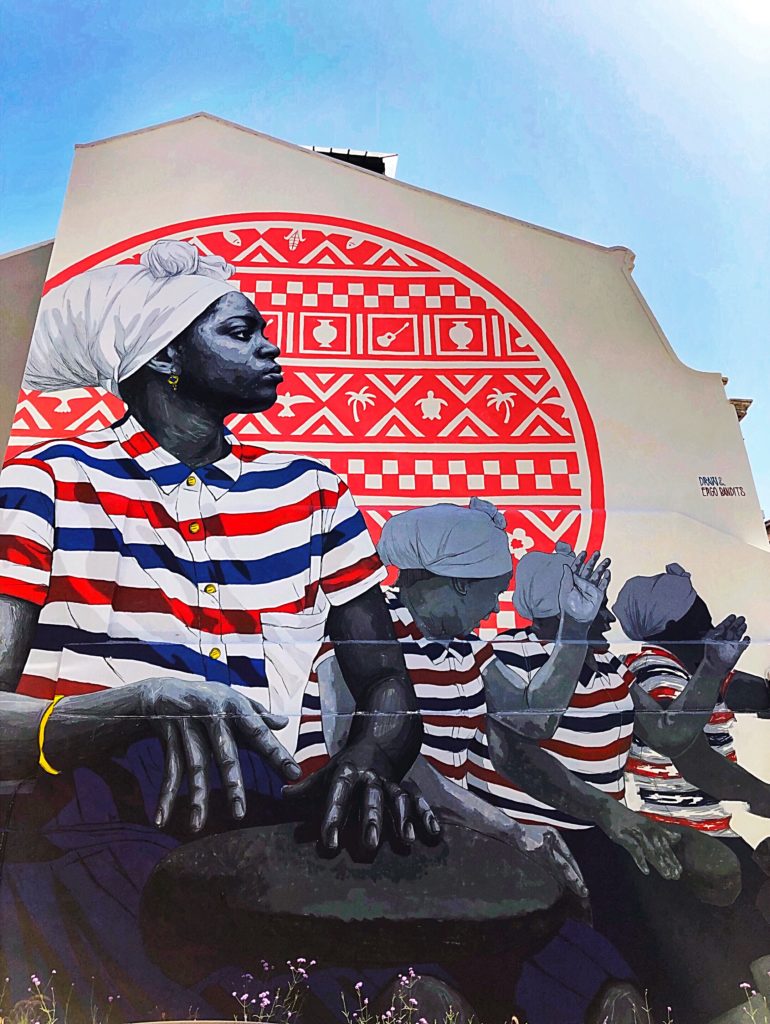 Location: Largo Hintze Ribeiro
Artists: @fredericodraw
Monkey by Bordalo II
When talking about street art in Lisbon, it's a crime not to mention Bordalo II! I have two favourites of his, mainly because I feel they are less known and also hidden in the non-touristic neighbourhood (wink, wink).
A few quick words about the artist: Bordalo is reusing discarded objects of any form and colour (anything that he finds in the garbage) to create shapes of various species of animals. And to put it in his own words; "I give back life to animals with what we used to destroy them."
Impressive, isn't it?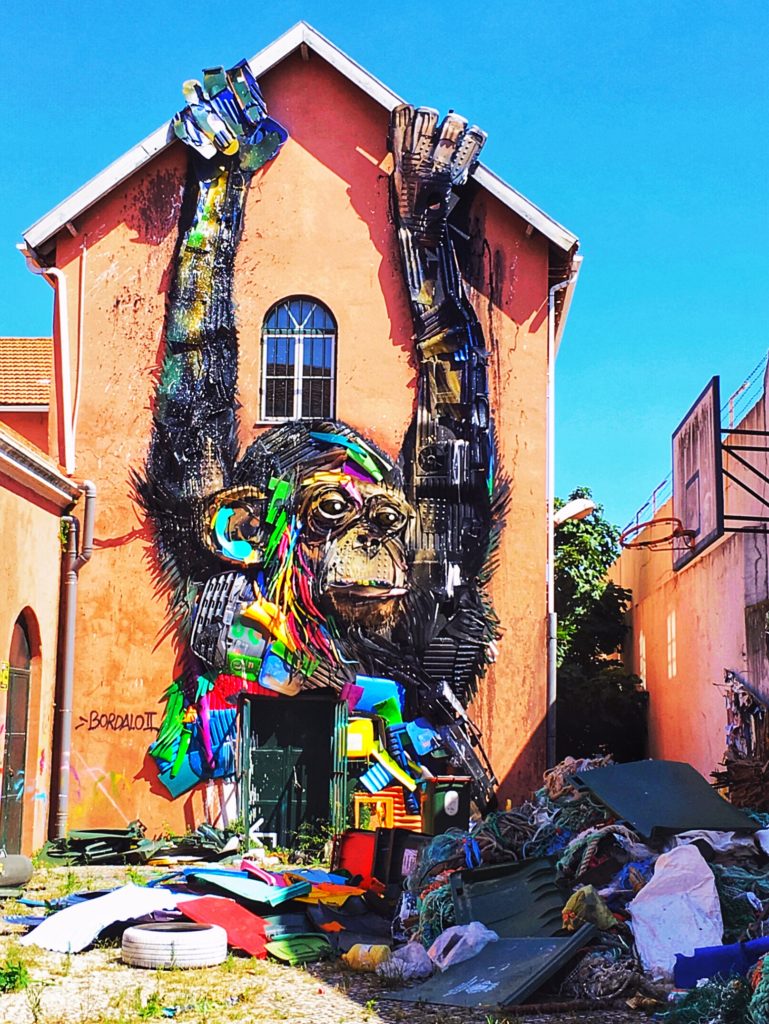 Location: 49 Rua da Xabregas
Artist: www.bordaloii.com
Frog by Bordalo II
My second favourite is not more than a 5-minute walk from the monkey. If you're around, be sure to check it out!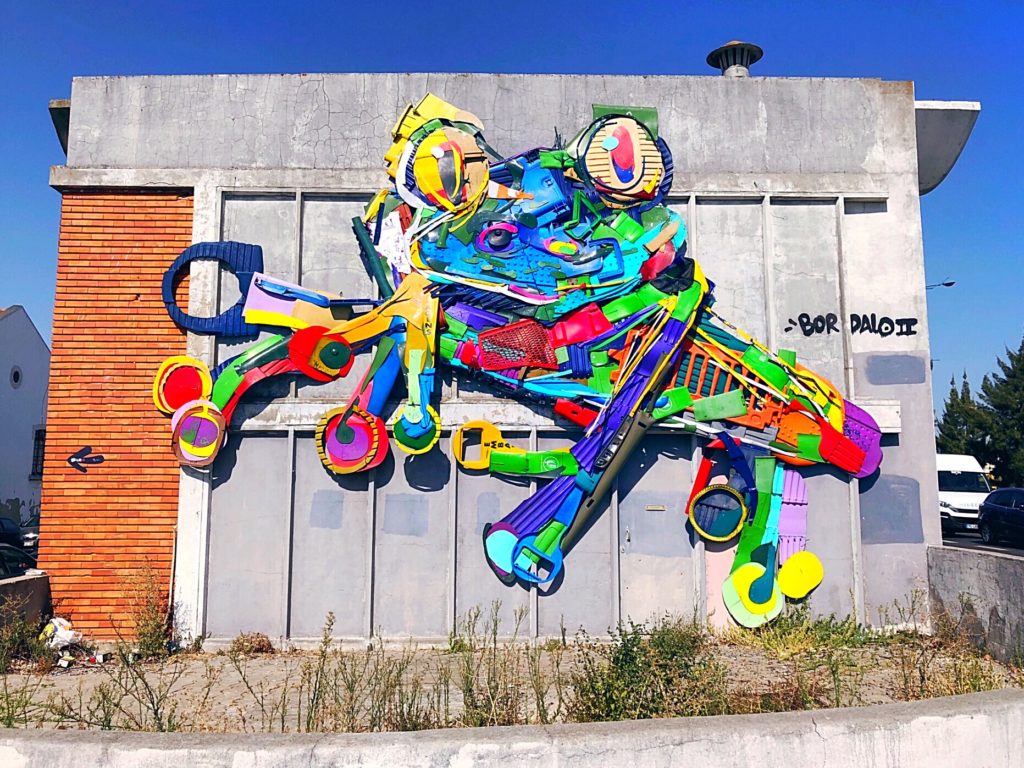 Location: 40 Rua da Manutenção
Artist: www.bordaloii.com
Iberian Lynx by Bordalo II
According to the artist "this piece was so far the hardest challenge that he ever had".
It sure looks like it, but from the viewer's perspective, I can only say it's the most impressive one too!
You can admire this Iberian Lynx made for the Youth Lisboa 21 in Lisbon's Parque das Nações district!
Location: Rossio dos Olivais
Artist: www.bordaloii.com
Herons by Bordalo II
This one is a brand new addition to the vast and colourful family of Bordalo's animals. These two beautiful herons were made in March 2020, just before the world shut down unexpectedly.
And even the artist didn't manage to complete them; they still are breathtaking!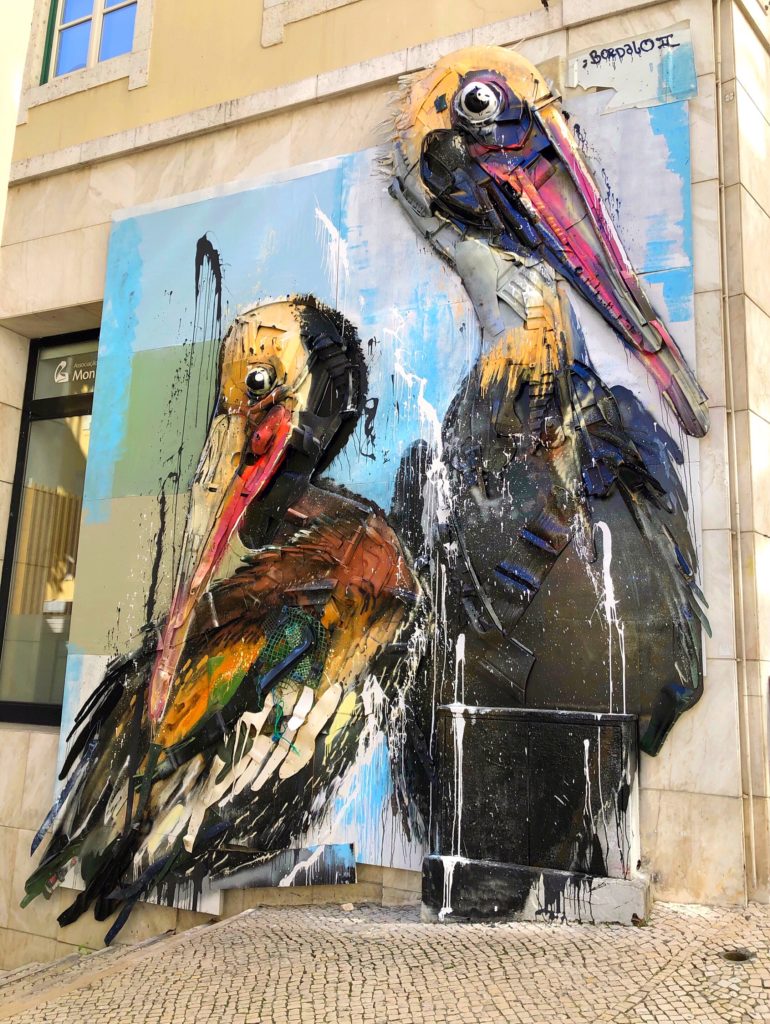 Location: Santa Justa Elevator
Artist: www.bordaloii.com
'Selfie' by Andrea Tarli
This mural is a provocative message to all those completely lost in a 'selfie' society. It's presenting an elderly Portuguese lady splashing a 'selfie tourist' with red paint.
We all should look more around us, especially when travelling and for a minute live the local experience!
In short, fewer selfies, more self-love!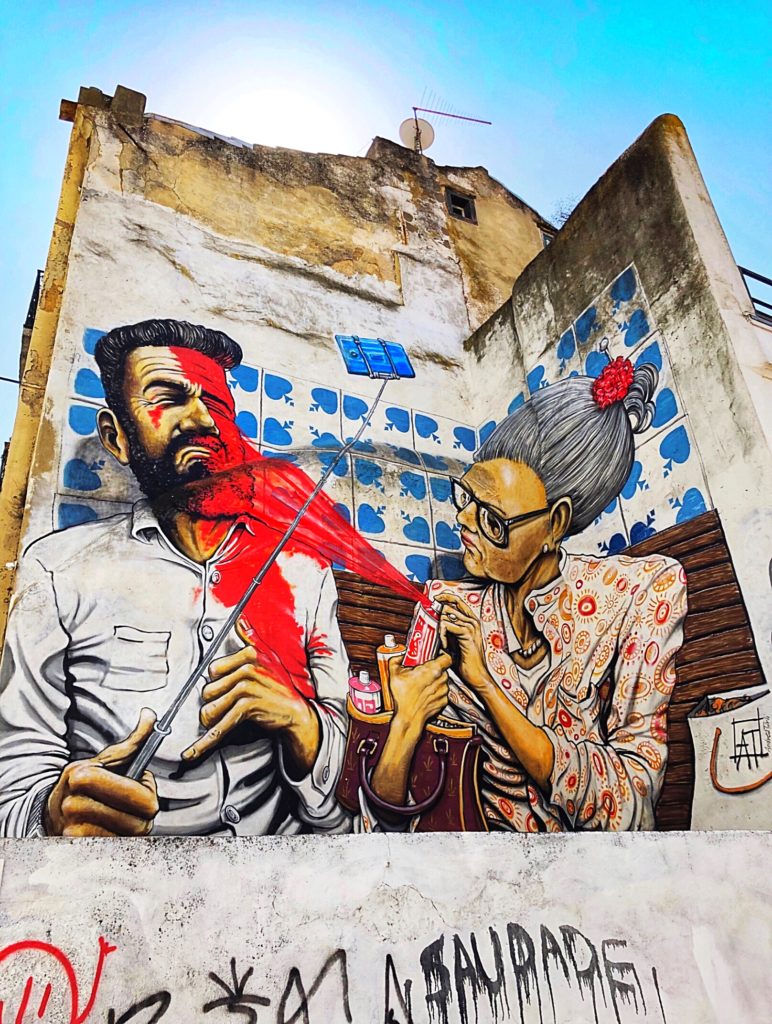 Location: Largo da Achada
Artist: www.andreatarli.it
Fado Vadio
FADO VADIO is probably the most known and photographed mural in Lisbon.
And no surprise it is!
It's a pure tribute to the Portuguese traditional music genre – Fado. It has multiple references to Fado itself but also to the Mouraria neighbourhood (its location) and unquestionable and unofficial symbols of Portugal like bread and wine.
A must see, even if you'll be surrounded by other eager photographers trying to immortalise this beautiful picture!
Interesting fact! The owner of the building let the artists create this graffiti because he didn't have enough money for the renovation of the facade!
Location: Escadinhas de São Cristóvão
Artist: www.nunosaraiva.org
'When you close your eyes, nothing else matters' by Pariz One and M. Dheo
No description is needed. It's a direct and colourful reference to love!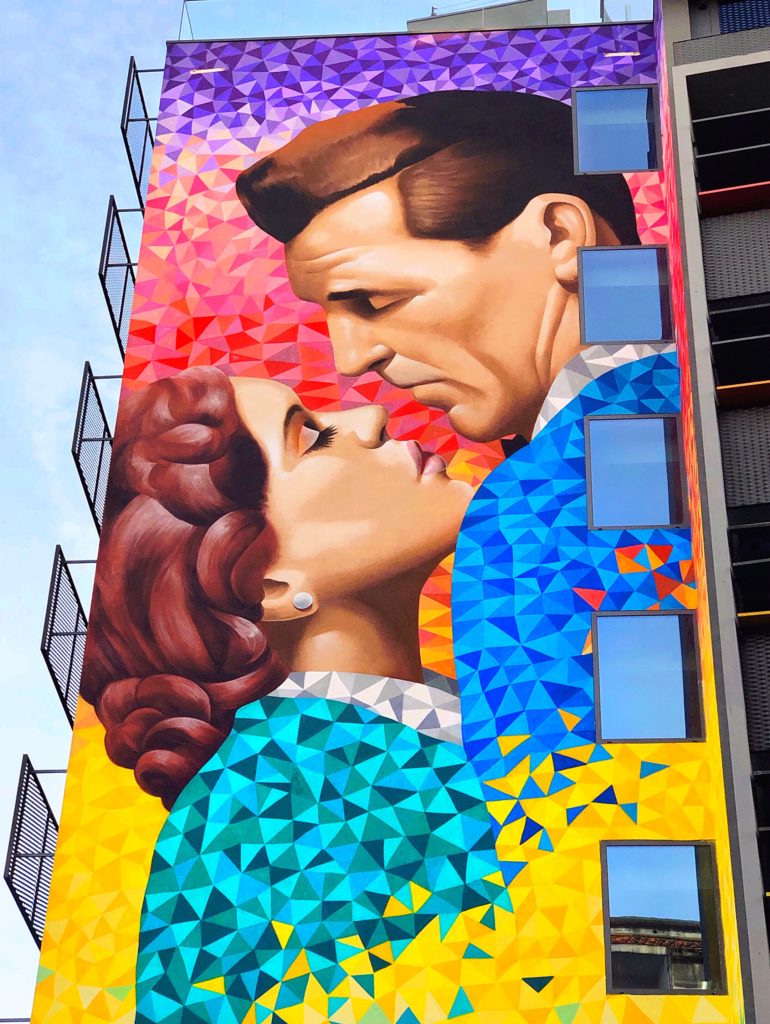 Location: 54 Rua do Conde de Redondo
Artists: www.mrdheo.com @mrdheo
'Crossroads' by Sainer
A Polish touch on the Lisbon walls!
Isn't it impressive enough that the artist made this mural in 10 days only?!!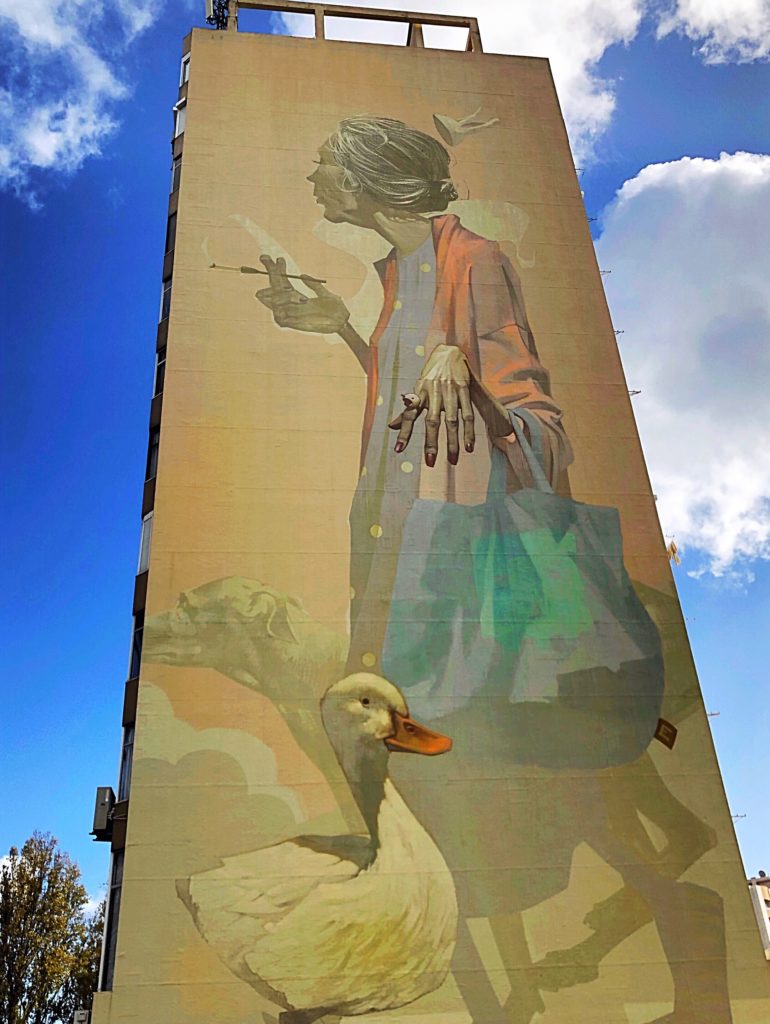 Location: 20 Avenida Afonso Costa
Artist: www.sainer.org
'La Madre Secular 3' by INTI
This tribute to the icon of Madonna is a part of the trilogy series and follows other stunning murals by the Chilean artist – in Marseille and Paris.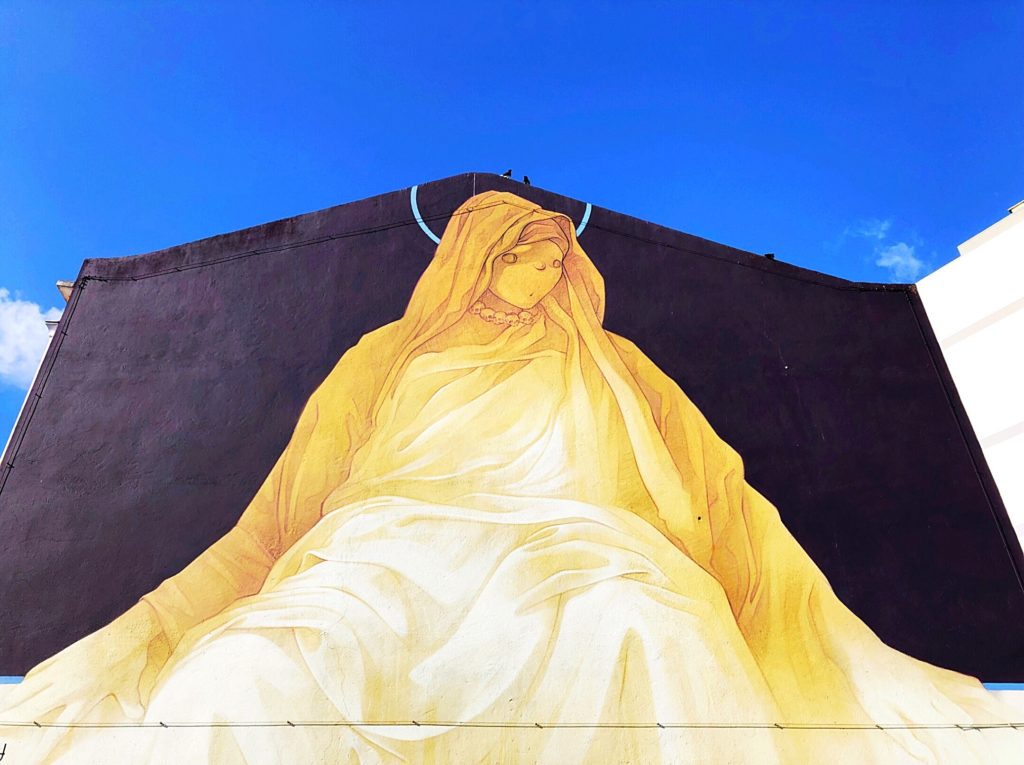 Location: 52 Rua Veríssimo Sarmento
Artist: Inti Castro
Nelson Mandela by Nuno Saraiva
An artistic memorial dedicated to the South African activist. The inauguration of this mural took place on the 18th of July 2018, on the International Day of Nelson Mandela.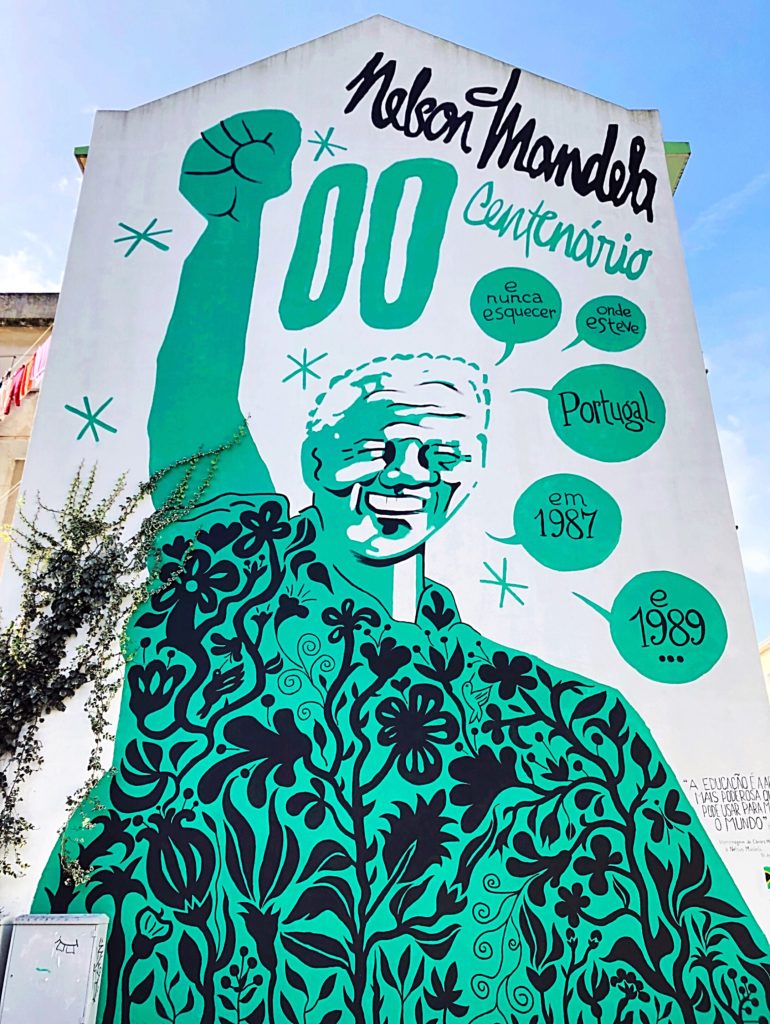 Location: 2 Rua Dr. João Soares
Artist: www.nunosaraiva.org
'Inês' by Ener Konings
Beautiful, peaceful, and emotional Inês is an example of the staple style of the Norwegian artist.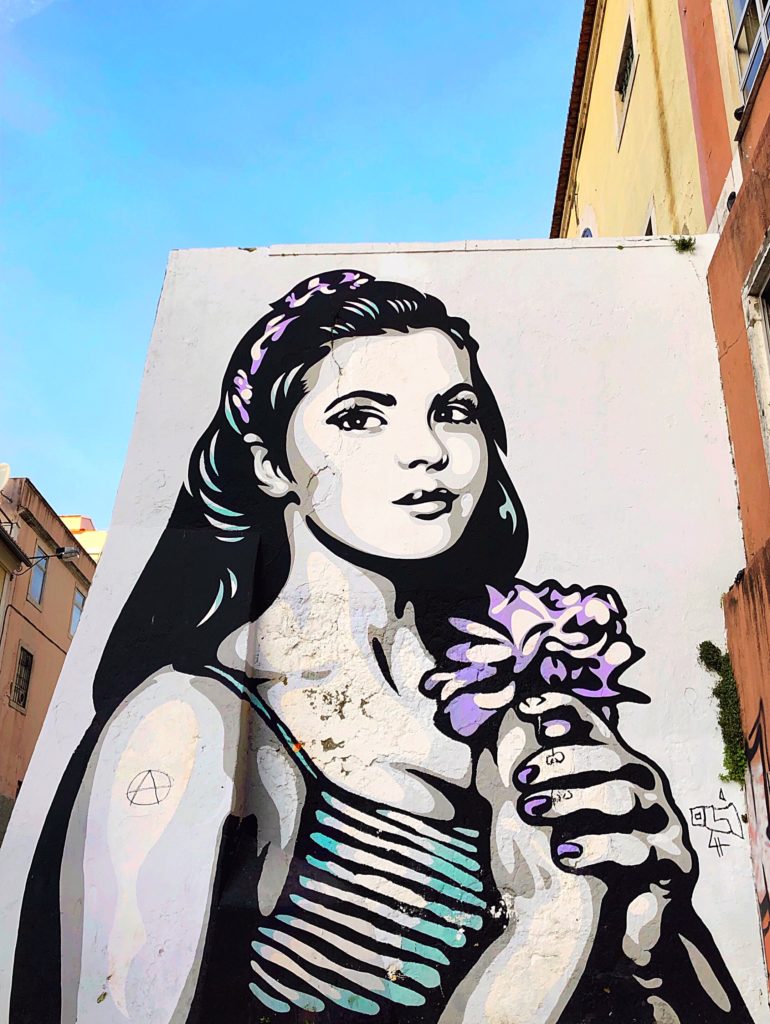 Location: 1 Rua Nova do Desterro
Artist: www.enerkonings.com
'Stop' by Nark
A strong, manifesto-like mural is overlooking the Lisbon outskirts of Algés.
With its bold colours, it's there to bring awareness of child abuse.
Fine art, important cause!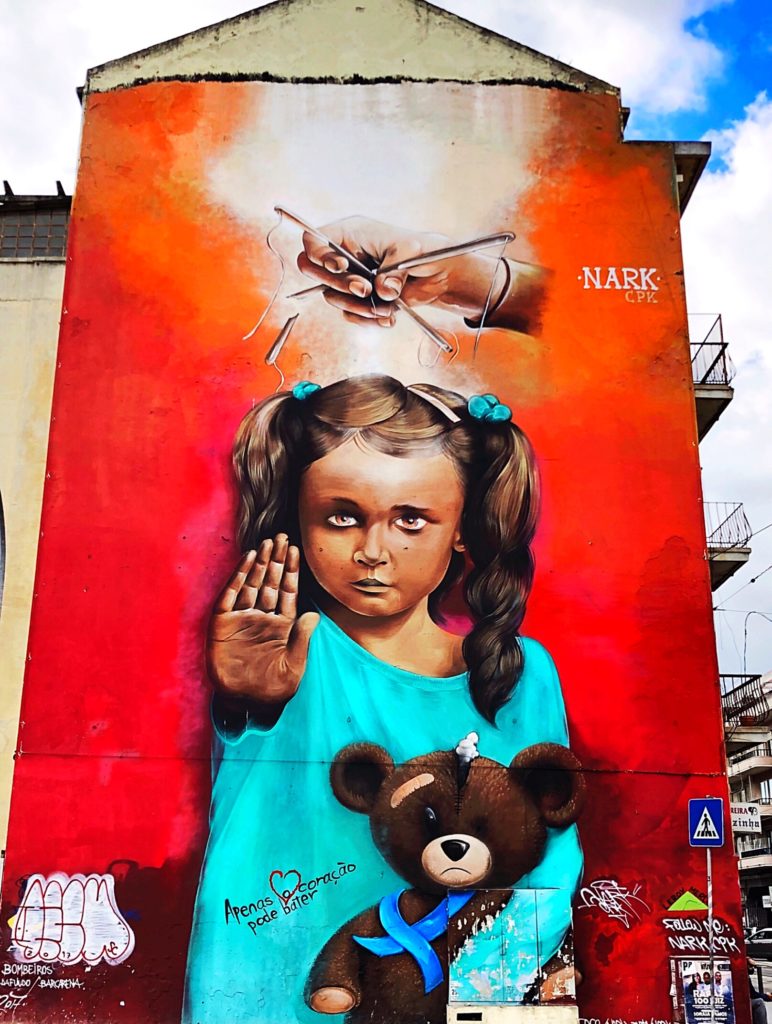 Location: Praça D. Manuel I, Algés
Artist: @nark.cpk
Quinta do Mocho
Until 2014 Lisbon's Quinta do Mocho was just one of the most dangerous neighbourhoods in Portugal. Some called it a ghetto.
It is home to the ex-colonial immigrants from Africa and the scene of a crime, drug dealing and domestic violence (with 80% of the unemployment rate).
To bring in some attention and get it closer to the rest of the city a Festival of street art was organised by local authorities. For this reason, artists covered the neighbourhood with meaningful and breathtaking murals making it the biggest open-air street art gallery in Europe. Moreover, it's gathering around 60 works of the likes of Vhils, Bordalo II or Smile.
Today, Quinta do Mocho is still facing a lot of social issues and is far from attracting many tourists, but definitely, the urban art has served as an artistic bridge that hopefully will open new possibilities to its habitats.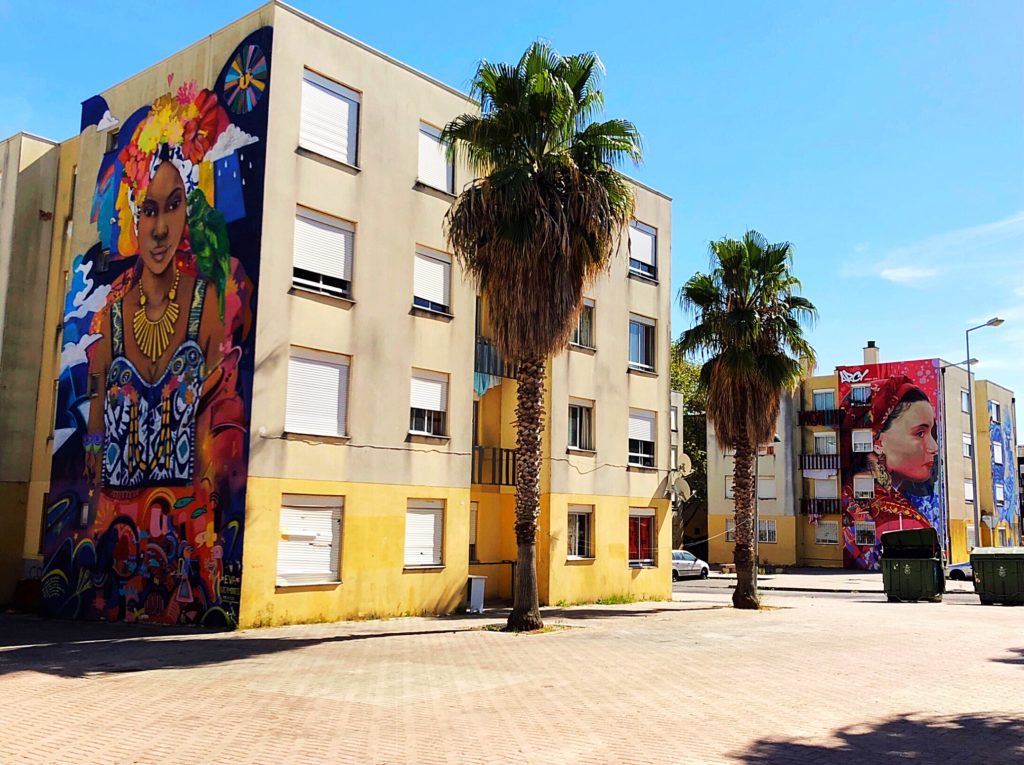 Location: Quinta do Mocho
Artists: see photo description
Bairro Padre Cruz
Padre Cruz is yet another exciting project of an open-air art gallery. With the same purpose as Quinta do Mocho, it's gathering over 30 Portuguese and international artists and since 2016 attracting urban art lovers!
Location: Bairro Padre Cruz
Artist: see photo description
Amadora
Right next to the Amadora Este metro station, essential figures of Portuguese art, music and literature are overlooking the streets of this Lisbon neighbourhood.
Location: 11 R. António Duarte Caneças
For the two last murals, please head to Praça Mestre Simões de Almeida and 10 Av. Gen Humberto Delgado, respectively.
Artists: see photo description
Marvila
The locals might still look at you strangely as if they didn't get used to the way their area had changed.
The typical, stranded neighbourhood of the Portuguese capital where, for some, the time has stopped. What enhances the experience is the presence and sounds of country animals!
Don't be surprised if between shots you'll stumble upon a cow or a rooster!
Location: head to the Marvila's library and you'll see the colourful buildings
Artist: see photo description
Stay True by SMILE
After years of a bad reputation – Casa Vendoso – a former drugs "supermarket", gets a new face. Literally and poetically.
The message is simple yet strong and best described the artist himself: "The mural is presenting a girl with clenched fists where you can read 'Stay True'. The child is the purest thing. Choosing it reflects confidence, a message of hope and believing that we can stay true to our goals."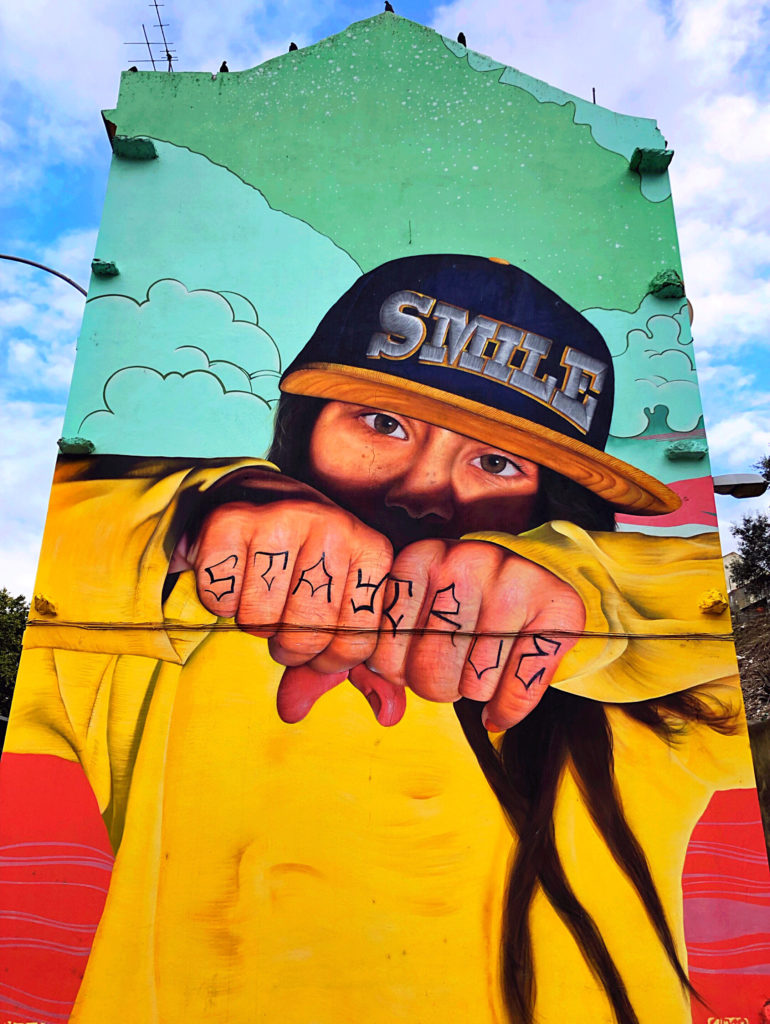 Location: Rua Fábrica da Pólvora 1
Artist: @smile_artist_official
The Jungle King by Okuda
If you walk down from the Marvila's library, towards the river – you'll stumble upon Okuda's impressive mural.
It was part of his solo exhibition with the Underdogs Gallery and now it's overlooking the whole upcoming Lisbon neighbourhood!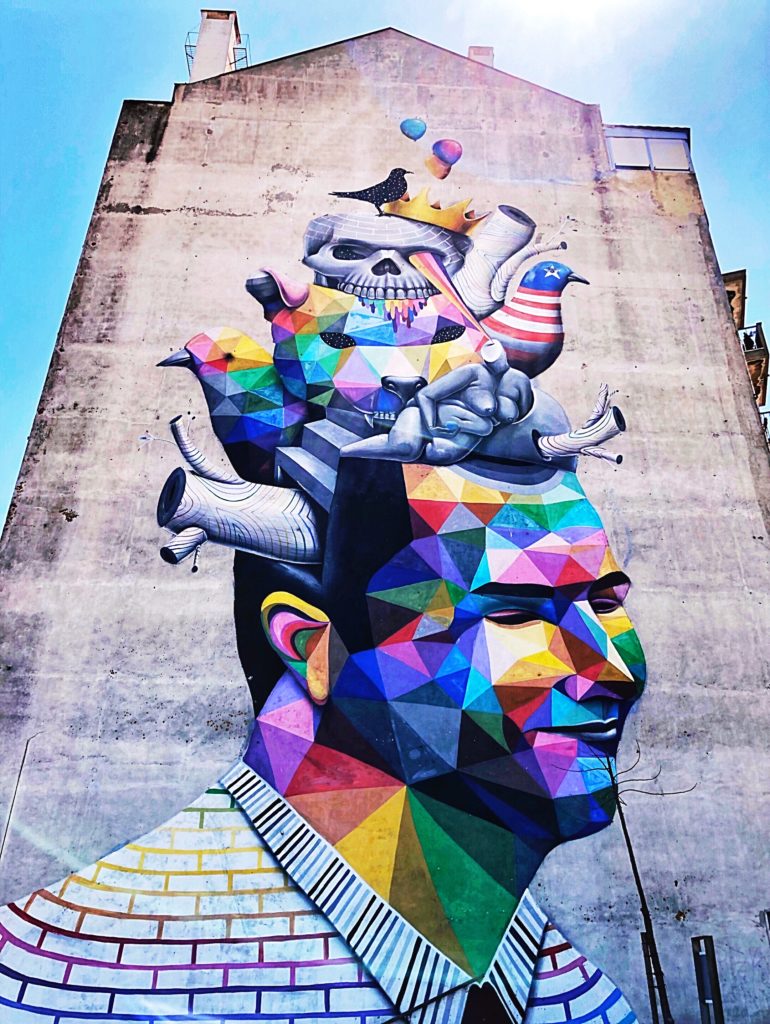 Location: Rua da Marvila 50
Artist: @okudart
Bairro da Torre
"These works convey a positive and inspiring message for children and young people, but they are also a way to open the neighbourhood and integrate it into the larger community than Cascais," said a vice-President of this seaside town.
Located out of Lisbon but worth a visit when you're getting there to catch some suntan!
Location: Bairro da Torre, Cascais
Artist: see photo description
Lumiar
Since May 2019 Lumiar became yet another neighbourhood covered in intriguing mural art. As part of the third edition of the Lisboa Urban Art Festival – the organizers, along with street artists invite us to come out of the historical comfort zones!
Location: Lumiar
Artist: see photo description
That's all from me 🙂 Now, I am looking forward to hearing about your favourites!