Expo throwback: "Childhood" @ Palais de Tokyo
Imagine you can enter the world of your childhood imagination.
You encounter the monsters that scared you, the funny cartoon characters that made you laugh, the nonexistent country you were the leader of.
You can finally be the Alice who opens the door to her wonderland!
Palais de Tokyo made all those dreams (and nightmares!) become a reality by inviting a bunch of artists and letting them interpret the 'childhood' through their artistic visions, forms, words, shapes, and colours.
Some were cute, some scary, others shocking and creepy but all full of emotions.
Now take a few minutes to reconnect with your inner child on a not so childish level!
Barbie world
-> The entry to this magical expo was through. A human-sized dollhouse that was sweet as candy and real as it gets 🙂
Magical world
-> Through those woolly and fluffy mask murals artist Caroline Achaintre (London) tries to answer a question who and what determinate what"normal" is and what is "different".
They are more of a facade behind other layers of personalities. Its inspiration source is festivals, carnivals, heavy metal music, horror movies, and demon-like characters.
Mysterious world
-> Next, somewhat dark and demon like the world of Jean-Marie Appriou (Paris) meets the splash of colours of Megan Rooney (London).
She's using white walls as her canvas to bring back memories of a shellfish on a plate, ketchup stain on a white cloth and all the smallest details that can be transformed into her symbolic vision.
Paired up with Jean-Marie's steal creatures, devils, monkeys, spiders, sea beings is a real #throwback to any fantasy world!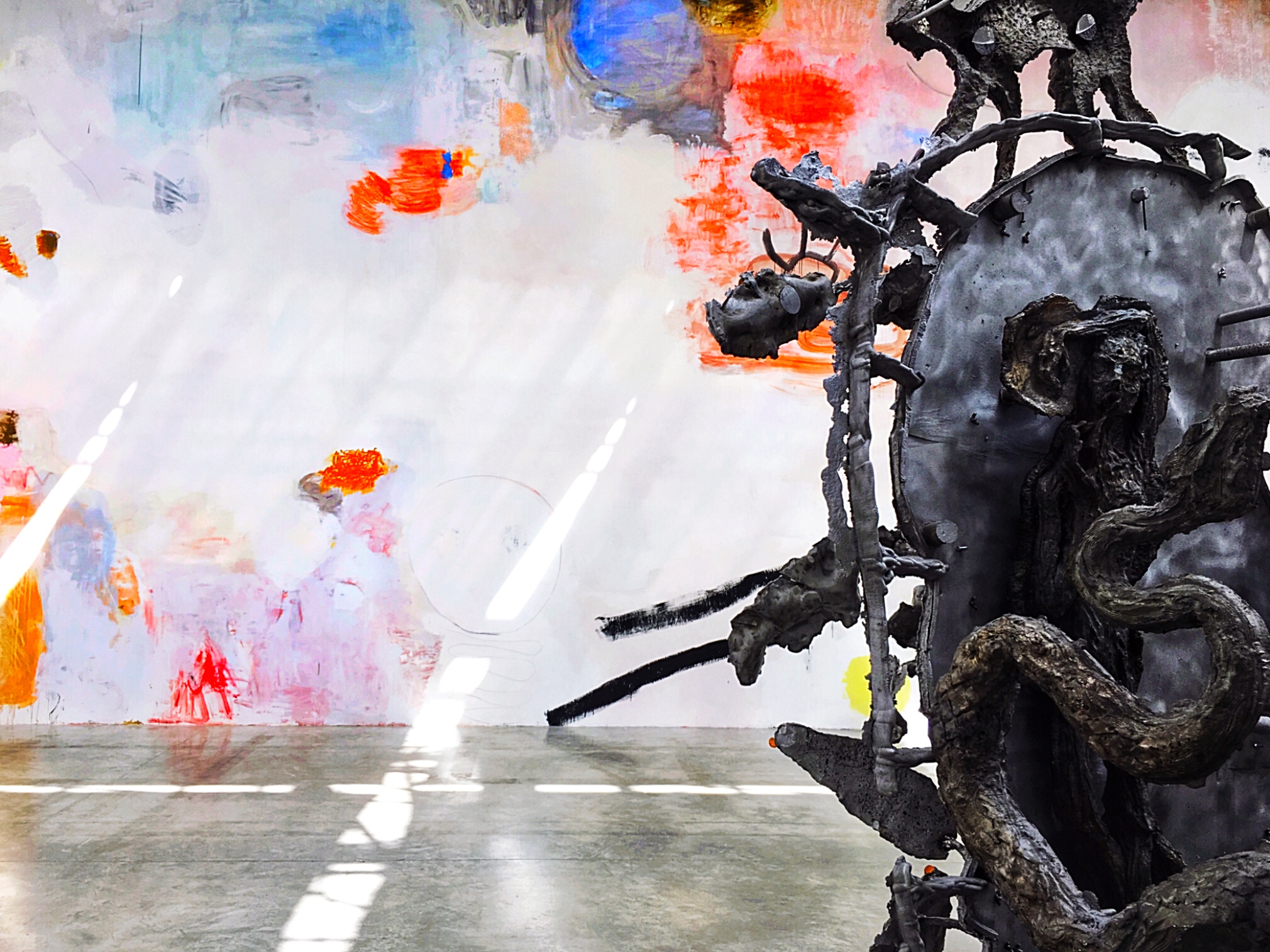 Fantasy world
-> Mysterious sculptures created out of reclaimed objects are Keita Miyazaki's (Tokyo, London) way of showing the complexity and variety of the modern societies we're living in
Warhol world
-> In 1983, Andy Warhol (New York) was invited to prepare an exhibition dedicated to children. Especially for that occasion, the American artist made a  wallpaper covered in silver printed fish pattern and laid kids books against the walls. The books were displayed at the height of 5-6 years old forcing the adults to bend down to reach the books.
That was Warhol's manifesto against tricky marketing techniques that more often than not were pointed at kids who are the most desired targets for stores and companies.
Original expositions from 1983 were shown at Palais de Tokyo!
Nightmare world
-> This part of the exhibition must've been a horrendous experience for those afraid of clowns!!
Ugo Ordinone decided to play with many's nerves and installed a vast and colourful space with sleeping human size clown dolls!
I couldn't stop fighting against my imagination thinking they would all come to life in the form of the 'IT'!!
It was almost like entering into the jaws of my biggest nightmares!
P.S. Pictures were not allowed due to the fragility of the exposition, but it would've been such a shame not to share this one! Sorry Palais de Tokyo.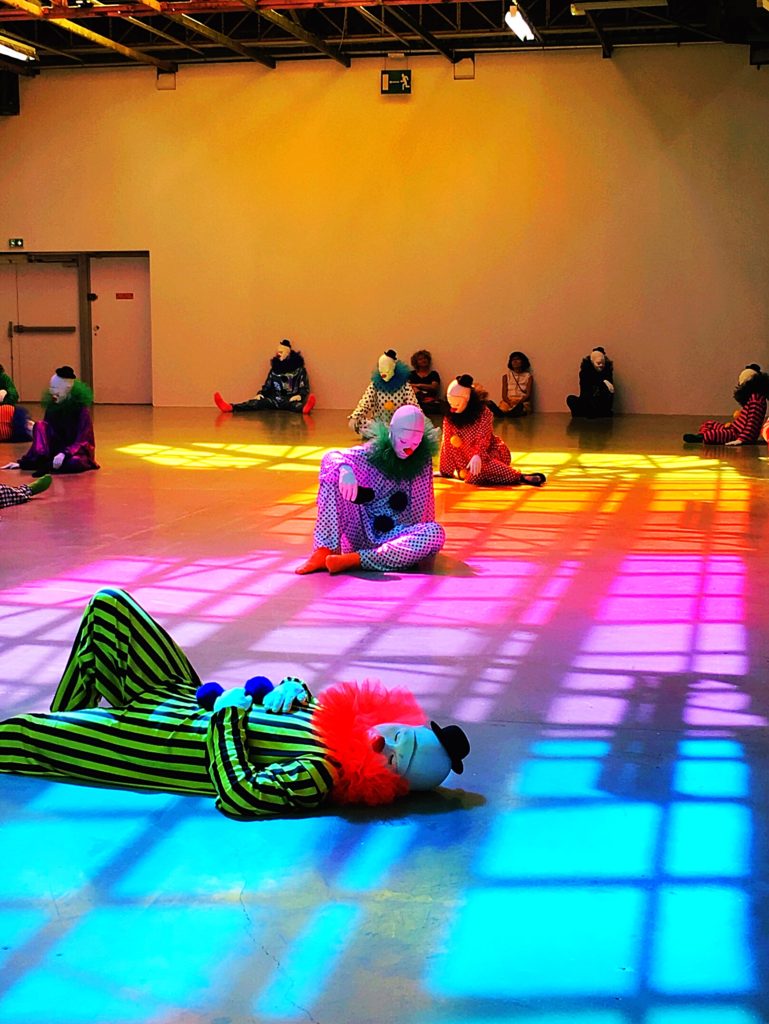 School world
-> An empty and abandoned classroom full of enlarged paintings, words and thoughts  – by Petrit Hallilaj
Media world
-> Extraordinary and gigantic mural of a child made out of hundreds of mosaics is a pretty direct message sent by Clément Gogitore.
Kids images are being frequently used and abused by mass media and even parents. This strong statement is underlined by the usage of a traditional tile technique used in a rather contemporary context.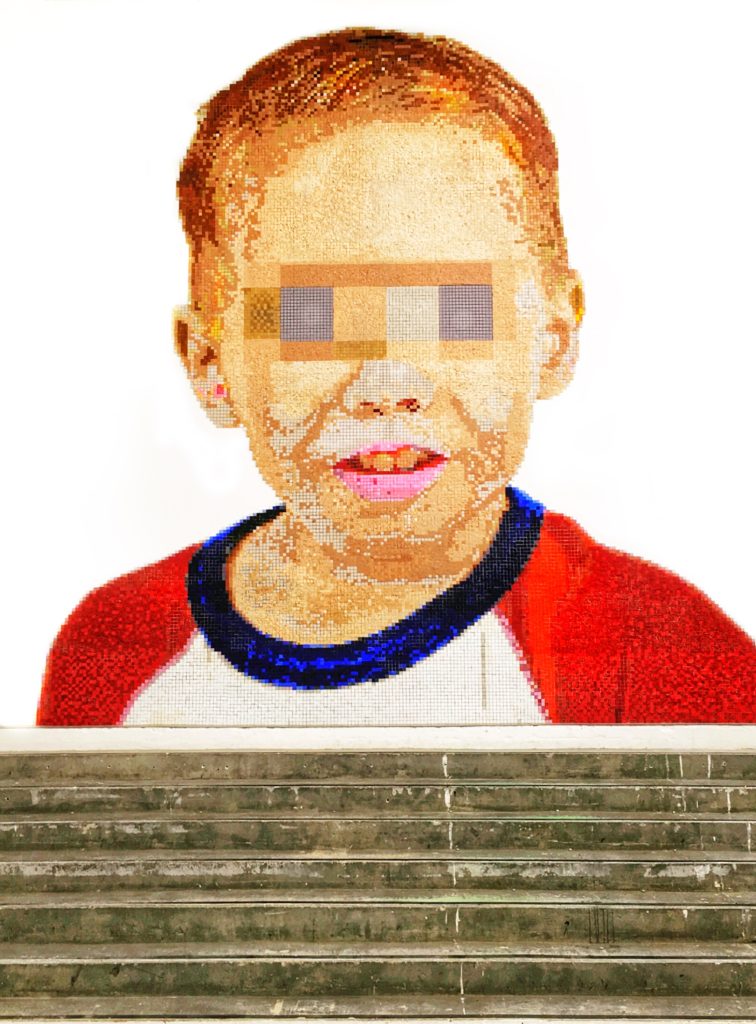 Lonely world
-> "We are born alone. We die alone. So I set up my sculptures like isolated individuals" is a summary quote of Tomoaki Suzuki's installation but I think it's also a perfect ending phrase for this quick virtual #throwback to one of my fave expos in 2018!
Have you spotted any of your childhood reminiscences?
Did it bring any memories?
Was it anyhow nostalgic?
Palais de Tokyo
13 Avenue du Président Wilson
75016 Paris
Tel: 01 81 97 35 88
Full price ticket: 12 euro
Reduced price: 9 euro
Openings: daily 12:00 – 00:00
www.palaisdetokyo.com
@palaisdetokyo
(exhibition closed)
---